Published Dec. 3, 2019
KEDM Public Radio, 90.3 FM, at the University of Louisiana Monroe is providing books to second and third grade students at area schools as part of the "Give the Joy of Learning" year-end fundraising campaign.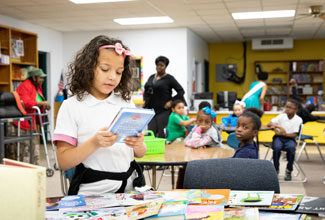 The campaign, now in its fourth year, provides books to second and third graders in three parishes in Northeast Louisiana. The campaign aims to impact 2,000 students in 12 schools.
According to the Institute of Educational Science Nation's Report Card, 74 percent of public school fourth graders in Louisiana are unable to read at grade level.
"Research shows that shared book reading and the availability of books in a home during a child's early years are a strong link to academic achievement," said General Manager Jay Curtis. "Promoting childhood literacy is one way we can work to improve our community and make a difference for the future."
"KEDM listeners are lifelong learners," said News and Public Affairs Director Cory Crowe. "We're inviting them to share their passion for learning new things and impacting a child's life with a book."
When donors give to KEDM between now and Dec. 11, KEDM will deliver a book in the donor's name to a child in an area school. Each $20 donation places one book in the hands of a child. A $100 donation sends five children home for the holidays with books.
KEDM staff and volunteers will deliver books to Berg Jones Elementary, Carver Elementary, Clara Hall Elementary, Jefferson Elementary, and Madison J. Foster Elementary in the Monroe City School system; Lenwil Elementary, Robinson Elementary, Shady Grove Elementary, and Swayze Elementary in Ouachita Parish Schools; Hillcrest Elementary and Lincoln Preparatory School in Lincoln Parish; and Union Parish Elementary in Union Parish.
The project is part of KEDM's overall fundraising campaign that raises funds for operating the station.
The campaign is sponsored by the Kiwanis Club of Greater Ouachita, Booth Wealth Management, Insurance Systems, and Friends of KEDM.
About 90.3 KEDM Public Radio
KEDM is a public service of the University of Louisiana Monroe, airing NPR News, classical, the Music of the Delta, and other entertainment from studios located in Sandel Hall and streaming online at KEDM.org. The station is funded by listeners, local businesses, ULM, and the Corporation for Public Broadcasting. Listen and give online at KEDM.org and follow the station @KEDMPublicRadio on Twitter, on Facebook and @KEDM903 on Instagram. For more information, visit KEDM.org or call 318-342-5556.