Published Nov. 26, 2019
The public is invited to see the research in action on Saturday, Nov. 30
Poverty Point World Heritage Site in West Carroll Parish is Northeast Louisiana's global treasure. One of only 24 sites in the United States and 1,121 worldwide, it was approved by the United Nations Educational, Scientific and Cultural Organization in 2014.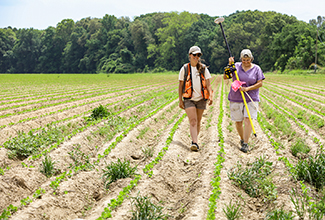 PHOTO:
Diana Greenlee, Ph.D., right,
ULM adjunct professor and station archaeologist at 
Poverty Point World Heritage Site, mapped fields surrounding the site with GPS in 2017. Also pictured is archaeologist Alisha Marcum.  Emerald McIntyre/ULM Photo Services
Much of the research, documentation and preservation of the site is a result of the work of station archeologist Diana Greenlee, Ph.D., an adjunct professor at the University of Louisiana Monroe. Greenlee led the process to nominate and secure the UNESCO designation.
The last week in November, Greenlee and a team of visiting archaeologists and scientists are conducting cutting-edge research using high-resolution 3-D ground penetrating radar to explore the West Plaza Rise. 
On Saturday, Nov. 30, the public is invited to see the 3-D GPR in action, to talk with archaeologists about this and other research at the site, and perhaps to learn some of the preliminary results. Poverty Point is a Louisiana State Park as well as a World Heritage Site. 
Questions remain about the creation and significance of the West Plaza Rise, which is why it is the focus of this investigation. Greenlee believes the research will help determine the formation of West Plaza Rise, which could be manmade, and its use by ancient civilizations.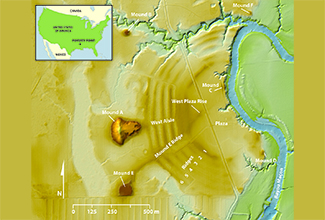 PHOTO:
Archeologists and scientists are studying the West Plaza Rise at Poverty Point World Heritage Site using the latest in 3D ground penetrating radar. Courtesy of Poverty Point World Heritage Site
"Poverty Point World Heritage Site is a remarkable earthworks site built by people who lived by fishing, hunting, and gathering wild plant resources. Dating from about 1700 to 1100 BCE, the site is known for its five earthen mounds (a sixth mound was added by a later culture), six C-shaped earthen ridges, and a large central plaza," stated Greenlee. 
"There is an intriguing high spot in the relatively flat plaza at Poverty Point … Based on its location relative to other earthworks and several post circles, we think the West Plaza Rise could be a significant, yet under-appreciated, part of this amazing created landscape," Greenlee said.
In addition to Greenlee, researchers include: Rinita A. Dalan, Ph.D., professor of anthropology at Minnesota State University Moorhead; Arne Anderson Stamnes, Ph.D., of the Terrestrial, Marine and Aerial Remote sensing for archaeology research group of the Norwegian University of Science and Technology; Thurman Allen, a soil scientist with experience describing and interpreting soils at archaeological sites including Poverty Point; and Michael Hargrave, Ph.D., U.S. Army Corps of Engineers, Engineer Research & Development Center, Construction Engineering Research Laboratory, who has been conducting geophysical research at Poverty Point since 2006. 
Funding for the 3-D GPR study is from the National Park Service's National Center for Preservation Technology and Training, Advocates for Poverty Point and the Spatial Archaeometry Research Collaborations Program. The SPARC Program is based at the Center for Advanced Spatial Technologies at the University of Arkansas and funded by a grant from the National Science Foundation.
Poverty Point World Heritage Site offers visitors the unique opportunity to experience and learn about the earthworks and those individuals who raised them from the ground. The $4 admission fee provides access to the museum, film theatre, hiking trail, driving tour, seasonal tram tour, and interpretive events. Children (3 and under) and senior citizens (62 and over) are admitted free of charge.
Poverty Point is east of Monroe on LA 577. The park is open daily from 9 a.m. to 5 p.m. For additional information, call 888-926-5292 or 318-926-5492 or follow Poverty Point World Heritage Site on Facebook.