Published April 3, 2019
The University of Louisiana Monroe's International Student Services is hosting its annual International Week from Sunday, April 14 through Thursday, April 18. The purpose of this special week is to highlight the diverse cultures and nationalities present on ULM's campus.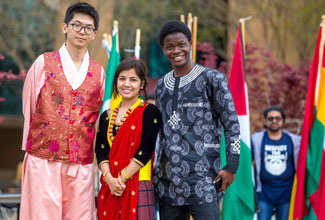 "We have an active international community at ULM. Our annual International Student Week highlights diversity, cultural exchange and Warhawk pride! We are excited to highlight our international students through song, dance, food and networking!" says DeVaria Hudson, Director of International Services and Programs. 
 
All activities are free except the International Food Festival and the International Gala. The gala is free for the first 150 members, $10 for ULM domestic students, and $15 for faculty and staff. Tickets can be purchased at the International Student Services office in Sandel Hall, Suite 200. 
 
"There are so many opportunities for the community to become involved in International Student Week. Join us for the flag parade, Holi (Festival of Colors), soccer tournament and gala. I'm really looking forward to the food festival. Our international students are some of the best chefs this side of the bayou!" says Hudson. 
 
The International Food Festival is one of the most anticipated events of the week. Guests will be able to enjoy a global variety of sample food provided by international students and faculty, priced from 50 cents to $2 per item. 
SCHEDULE
 
Sunday, April 14
 
Kickoff
Time: 5 –7 p.m.
Location: International Student Center
 
Winter is Coming Watch Party
Time: 8 p.m.
Location: The Hangar
 
Monday, April 15
 
Flag Parade
Time: 3 p.m. 
Location: Fant Ewing Coliseum to Scott Plaza 
 
International Health Fair
Time: 3-7 p.m.
Location: The Hangar
 
Holi (Festival of Colors)
Time: 5:30-7 p.m.
Location: Bayou Park
 
Tuesday, April 16
 
Kayak Race & Henna
Time: 11 a.m. – 1 p.m.
Location: Wesley Foundation 
 
Easter Egg Scavenger Hunt
Time: 5-7 p.m. 
Location: Wesley Foundation
 
Wednesday, April 17
 
Food Festival
Time: 11 a.m.-1 p.m.
Location: The Hangar
 
Soccer Tournament Battle for I-20
Time: 5 p.m.
Location: Intramural Soccer Field
 
African-Caribbean Dance Workout
Time: 5:30 p.m.
Location: Activity Center
 
Thursday, April 18
 
International Student Gala
Time: 6:30-9 p.m.
Location: The Hangar
 
For more information, contact DeVaria Hudson at dhudson@ulm.edu or 342-1295