Published July 11, 2019
The clients at the Kitty DeGree Speech and Hearing Center cover the age spectrum.
Toddlers come because their speech skills are slow to develop. Seniors come to regain that which a stroke has robbed from them — their ability to speak coherently.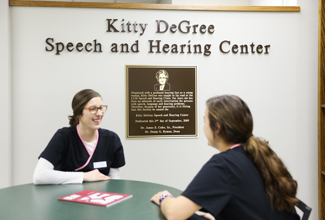 They all come to the center at the University of Louisiana Monroe's Sugar Hall in pursuit of a common goal – to improve communication skills. There they work with ULM Department of Speech-Language Pathology graduate students working to become speech-language pathologists.
Benefits abound for students and clients alike at the Kitty DeGree Speech and Hearing Center — just one of several campus centers or clinics which are available to the community. 
Students, especially those in Health Sciences, need clinical hours before they can obtain their licenses or certifications. ULM clinics provide that opportunity for students, under the supervision of faculty members.
For that to happen, however, the students need clients. Those come from the community. In many cases the clients would not be able to access help if it weren't for ULM.
Anne Marie Sisk, a speech-language pathology clinical assistant professor in the ULM College of Health Sciences who serves as director of the Kitty DeGree Center, says the most a client will pay at the center is $10 a visit.
Funding for the Kitty DeGree Speech and Hearing Center, which opened in 2009, comes from the Kitty DeGree Foundation.
DeGree, a philanthropist who was, during her lifetime, a major contributor to ULM and whose legacy lives on through the foundation, was diagnosed with a profound hearing loss as a young woman.
She was taught to read lips by ULM speech-language pathologists.
Services provided
All speech relies on the ability to hear. Hearing screenings for adults and children are offered in the center's audiological suite. The screening determines if people are able to hear at different modulations where speech occurs.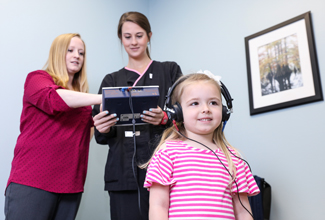 The therapy rooms for children have shelves of toys used to encourage interaction with the student clinician. Child clients obtain help with articulation, spoken language, social use of language, stuttering and voice disorders.
Speech assistance with those born with cleft palate also is available.
"I remember a little girl of 2 who barely had any language when she came to us," Sisk said. "Her parents were told she had autism, but after a year she had completely caught up. That was one of our big success stories."
Among the adults served by the center are those who have suffered a stroke, traumatic brain injury or laryngectomy. Clinicians also work the clients with voice disorders in need of help with such issues as pitch, loudness and resonance.
Not all of the adults seen at Kitty DeGree Speech and Hearing Center suffer from a medical problem. Help is available for transgender voice modification and accent modification. Accent modifications is designed to enhance business, social and academic Standard American English speaking skills, and clients have included international students, faculty and other professionals.
Helping now and preparing for the future
Sisk said the clients are served by graduate speech-language pathology students whose work is overseen by five faculty members who are licensed and certified pathologists.
"We are required to watch them directly 25 percent of the time they are with clients," Sisk said.
At times, the faculty member will sit in the room while the student is working with a client. Each room is equipped with a two-way mirror through which the therapy session can be watched. Cameras also provide faculty with the means to watch a session from an office.
Before a graduate student can earn a master's degree, they must accrue 400 clinical hours. Each student starts with one client, will have two during the summer and four or five the next fall. The students also are required to work at a medical facility before becoming certified.
Sisk says ULM's speech-language pathology students are snatched up when finishing the program.
"We have a 100 percent job placement. It's a growing field, and there's a lot of demand," she said. 
The center serves 60 clients over the summer and 80 during the regular school year. 
"We do try for a 50 percent adult, 50 percent children split ideally, but the reality is more like 30 percent adult and 70 percent children," Sisk said.
Sisk said the center will take equipment out to private schools, day cares and health fairs to provide hearing checks.
"We do take self-referrals, people who know they need help," Sisk said. Other clients come through referrals from pediatricians and neurologists. "And we get referrals from local speech therapists who have worked with a client but whose insurance has run out," she said.
A second clinic operates at the Adm. E.A. Barham Speech and Hearing Clinic on University Avenue, housed in a Scottish Rite Temple. That clinic is funded through the Scottish Rite, a men's group that works to help those with speech disorders.
The Scottish Rite sponsors six full-time scholarships and provides free clinical services for six clients.
"Over there, we have just children," Sisk said.
Improving the quality of life
At the center, much of the work involves efforts to improve speech patterns. Not all success is measured in words, though. 
Sisk likes to tell the story about a child with autism whose inability to communicate was frustrating a mother. The student clinician noticed something, however, that the mother was missing.
"She saw that when the child saw her mother, she smiled and became more animated. You see, she was communicating with her mother, showing her how much she loved her, but it wasn't in words. The mother had never noticed," Sisk said.
"My definition of success is when we see a systematic improvement in the quality of life. We succeed, for instance, when parents are happier," she said.
#
To learn more about the center or to inquire about becoming a client, call 318-342-1395 or email kdshc@ulm.edu.