Published September 3, 2019
"I love my apartment. This is actually my first time away from home ... "
Miss Louisiana 2019 Megan Crews
Miss Louisiana 2019 Meagan Crews has joined the University of Louisiana Monroe family as a resident in a campus apartment. She'll be at home at ULM during her year-long reign.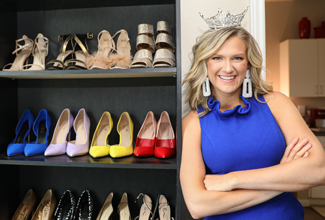 Crews was crowned in June and immediately embraced representing the Bayou State. She attends and speaks at local and state events, serves as the official health and wellness spokesperson for Vantage Health Plan, travels the state promoting healthy living with the Governor's Council.
She serves as an ambassador for both the Children's Miracle Network and Northwest Louisiana's YWCA LEAD (Leadership, Empowerment And Development) program.
 When asked what it is like being Miss Louisiana, Crews said, "A whirlwind, a chance of a lifetime, and a blessing given to bless others. It's so much more than a simple title. It's a job and an opportunity to serve my state in capacities like I've never been able to."
Crews' personal social impact is the YWCA LEAD program where she hopes to encourage leadership skills among the youth of our state. She also combines her love of painting and the Children's Miracle Network by working with children being treated for illness or injury. Crews hopes to host an art auction fundraiser where 100 percent of the proceeds would go to the Children's Miracle Network hospitals.
Crews said she's made many new friends at ULM and enjoys the campus energy.
"I love my apartment. This is actually my first time away from home, so I'm fortunate to live in an area where I became easily acclimated and am ready for my job," she said.
The Shreveport native describes Monroe/West Monroe as much like her hometown and says she feels "at home" at ULM. When she's not on the road, Crews enjoys trying local restaurants, working out and bowling.
"So far, it's been fun, but I'm most excited about what's to come throughout the year!" said Crews.