Published February 5, 2019
The University of Louisiana Monroe's mock trial team won Austin College's 2nd Annual Kangaroo Brawl in Sherman, TX on January 26-27, 2019, for their third tournament win of the season. ULM's Maroon squad defeated Texas A&M University, University of Arkansas, and Austin College to finish with a 7-0-1 record. Additionally, ULM's Gold squad finished in fifth place and three students won best attorney awards – Isiah Chavis, Jorden Johnson, and Shelby Joyner.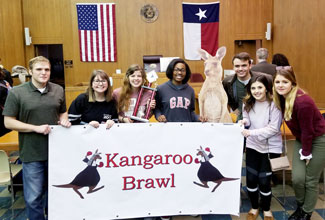 Representing ULM's Maroon squad were Eli Bell (Sr. Rayville), Olivia Myers (Jr. West Monroe), Shelby Joyner (Sr. West Monroe), Lydia Mills (Jr. Greenwood), Evan Hebert (Jr. Monroe), Rebecca Pittman (So. Vivian), and Emma Brunel (Jr., France). 
 
Lydia Mills, "This weekend was proof that the hours we put into preparing for competition was worth it. We have great coaches and a great program, and every university knows that we are competitors. It's a great feeling to have multiple attorneys commend you for your performance and tell you you're on your way to being an attorney yourself."
 
Shelby Joyner, "I am so very proud of my team's dedication. We pulled together to win this weekend. I'm so excited about this accomplishment for our team and for my best attorney award. To see the fruits of your labor is always rewarding. Now, it's time to polish and to refine our skills for regionals and to make ULM proud."
 
Emma Brunel, "Mock trial tournaments are such a rewarding experience in general, but winning this weekend was even more exciting! Mock trial is about building confidence, communication skills, and intellectual skills – as well as abounding with amazing people and having lots of fun. I could not dream of better teammates; a group of passionate people who take care of each other and are eager to learn. I am grateful to belong to two incredible teams, the ULM water ski team and the ULM mock trial team, as both will build experience for my future."
 
ULM's Gold squad picked up wins against Howard Payne University and Texas A&M University. Competing for the Gold Squad were Jorden Johnson (Sr. Monroe), Isiah Chavis, (Jr. Layette), Cameron Ott (Jr. West Monroe), Uchechi Owunna (Fr. Nigeria), Antonia Harris, (Sr. Alexandria), Nautica Jones (Fr. St. Martinville), Aakriti Pant (Fr. Nepal).
 
The ULM mock trial teams are coached by attorneys Bob Noel and Kyle Moore. This is their third win of the year, as they previously won the Jackson Joust hosted by Millsaps College in Jackson, MS and the the University of Minnesota's Nordic Undergraduate Mock Trial Battle in Minneapolis, MN. 
 
–––

ULM is the only university in the state of Louisiana that has fielded an active AMTA-affiliated mock trial team for the last six years; the only university in the state to have competed at the Opening Round Championship Series of the AMTA National Championship the last four. The American Mock Trial Association was founded in 1985 and is the governing body for intercollegiate mock trial competition.