Published Dec. 17, 2019
Retired University of Louisiana Monroe Professor of Nursing Nancy Albright Lowery was the guest of honor Monday, Dec. 16, 2019, at an event announcing the establishment of a scholarship in her honor.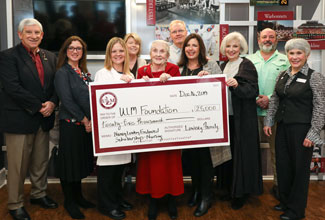 Photo: The Nancy Albright Lowery Endowed Scholarship in Nursing was announced Dec. 14, 2019, at the University of Louisiana Monroe. Pictured are, from left, front, President Dr. Nick J. Bruno, Jr., Interim Dean of the College of Health Sciences Dr. Jana Sutton, the scholarship's first recipient, nursing student Nancy Ragona, retired ULM nursing professor Nancy Lowery, her daughter Kate Lowery, sister Mary Dezendorf and ULM Foundation Executive Director Susan Chappell and in back, ULM Director of Nursing Dr. Wendy Bailes, Lowery's brother Paul Albright and her son, John Lowery.
Emerald McIntyre/ULM Photo Services
Hosted by the ULM Foundation at the Laird Weems Center, Lowery was surrounded by family and friends gathered to celebrate the occasion.
Lowery taught nursing at ULM for 40 years, including the first class of graduates from what is now the Kitty DeGree School of Nursing.
Susan Chappell, executive director of ULM Advancement, Foundation and Alumni Relations, welcomed those attending and spoke about Lowery's life and career.
"Known for her healing hands, she was most in her element when teaching clinicals at St. Francis Medical Center because she could share her knowledge with deserving students, while also satisfying her own constant love of learning in a dynamic environment," Chappell said.
Lowery was an award-winning professor and an expert witness in malpractice cases. She was president of the Louisiana State Board of Nursing in the 1980s.
A native of Monroe, Lowery earned a nursing degree from Northwestern State University and master's from Emory University.
Her daughter, Kate Lowery, decided to honor Lowery for her 80th birthday – Dec. 14 – with the scholarship.
"I realized how many lives she touched and how many people learned from her. She helped students find their academic and personal success. What better way to honor her than with the Nancy Albright Lowery Endowed Scholarship in Nursing. People can get a hand up when they need it to help people meet their goals in life," Kate Lowery said.
"I'm totally overwhelmed. My career here was always pure joy," said Lowery. "Thank you all for assisting in this scholarship. Oftentimes the financial burden is really amazing. The curriculum in nursing is very demanding. Scholarships sometimes are saving the career of an individual who will contribute and do the most caring."
The first recipient of the scholarship is Nancy Ragona, who is a licensed practical nurse working on a Bachelor of Science in Nursing.
 "I can't think of a more remarkable gift your family and friends have done for you," said President Nick J. Bruno, Jr., Ph.D. "This is a perpetual gift that will never go away."
Special guests included Lowery's former student and a member of ULM's first nursing class, Jan Corder Pyzner, D.S.N., Dean Emeritus of the School of Health Sciences, and Emily Doughty, Ed.D., retired director of the Kitty DeGree School of Nursing. Family attending included her daughter Kate, son John Lowery, sister Mary Dezendorf and brother Paul Albright.
In 1985-86, Lowery received the Outstanding Teacher Award from the Alumni Association. In a story about her in the 1986 Chacahoula yearbook, Lowery was asked what makes a good teacher.
Her response was, "Enthusiasm. You have to enjoy it. You have to be interested in it yourself. I think you just have to love what you do, especially with nursing, because there is so much 'doing' along with the 'knowing.'"
The scholarship was endowed with an initial gift of $25,000. Scholarships of $500 will be awarded each semester.
For information about ULM Foundation scholarships, please visit ulm.academicworks.com.