Published April 8, 2019
Dr. Jessica Dolecheck, Program Director of Health Studies at the University of Louisiana Monroe, and Dr. Paula Griswold, Interim Associate Dean, College of Health Sciences at ULM recently traveled to Paris, France, to co-teach at Pôle Léonard de Vinci University (PULV). The title of their three-hour lecture was "Career21: Essential Skills for Success" and was taught three times over three days to three different groups of students, totaling 150 students.
Their lecture focused on soft skills training related to communication, work ethic, professionalism and networking.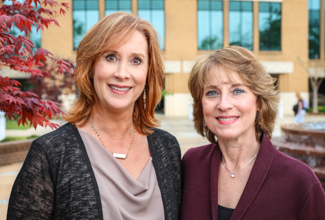 Pôle Léonard de Vinci University offers programs in digital marketing, management and engineering for undergraduate and graduate students. The International Relations Department at PULV has a network of more than 100 partner universities. During International Week, professors from countries such as the United States, Latvia, Thailand, Ireland, Lebanon, Canada, and Germany speak on topics in PULV's programs. The goal of this international event is to prepare students for a semester of internships abroad. 

The Pôle students were very engaged, interested and actively took part in the group activities within the lecture, noted Dolecheck. 

"It was an honor to represent ULM. The opportunity to interact with these students and faculty from around the world was truly a fascinating experience. In fact, our topic on soft skills fits with PULV's new strategic plan that focuses on providing methods for professional development with their students," she said. 

Griswold commented, "I am so appreciative to ULM, the University of Louisiana System, and PULV for providing this educational exchange opportunity for teaching students and interacting with faculty from around the globe. The interactions we had with these students and faculty provided a chance to exchange ideas, network, and explore different teaching methodologies. It was truly a great experience." 

Recently, PULV established a new soft skills department recognizing the importance of incorporating soft skills training into their engineering and business curricula.