Published July 30, 2019
Former University of Louisiana Monroe All-American Joe Profit, who became the first 1,000-yard rusher in school history in 1969, has been selected as the keynote speaker for The Pursuit, scheduled for Monday, Aug. 19 from 6-9 p.m. at the Bayou Pointe Student Event Center.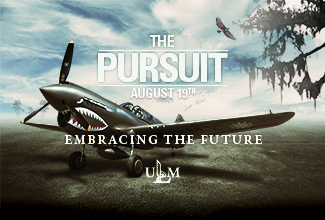 The Pursuit, the University's premier kickoff event for the upcoming football season as well as the 2019-20 academic year, is sponsored by BancorpSouth.
A graduate of Richwood High School in Monroe, Profit was a trailblazer in 1967, becoming the first black to play football at a predominantly white Louisiana college as well as the first black football player to compete in the Gulf States Conference.
He led the team in rushing and all-purpose yards for three seasons in a row from 1968-70. Profit, who still ranks among ULM's all-time Top 10 in rushing (2,818 career yards) and all-purpose yards (3,661 combined), was selected by the Atlanta Falcons in the first round (No. 7 overall) of the 1971 National Football League Draft.
Profit is a candidate for Georgia's 7th U.S. Congressional District.
Program highlights include comments from ULM President Nick J. Bruno and Athletics Director Scott McDonald as well as a season preview from head football coach Matt Viator.
Tables of eight are on sale for $800 and can be reserved online here: https://www.eventbrite.com/e/pursuit-2019-tickets-64173947003.
Food and drinks will be provided by Catfish Cabin, Fieldhouse Bar & Grill, Marsala Beverages, Glazer, and Waterfront Grill.
Guests are encouraged to purchase tickets in advance since The Pursuit sold out last year.
For additional information, contact the ULM Athletics Department at (318) 342-5360.
The event benefits the Warhawk Club, formerly the ULM Athletic Foundation.
The Pursuit is named in honor of the Curtis P-40 "Warhawk" fighter planes, flown by Gen. Claire Lee Chennault's Flying Tigers during World War II. The ULM Warhawk mascot takes its name from the planes, which featured the iconic noses painted with an open shark's mouth with jagged teeth.