Published May 1, 2019
The University of Louisiana Monroe has received the distinction of being named one of the Safest Colleges in America by Alarms.org, and thus, one of the safest in the state.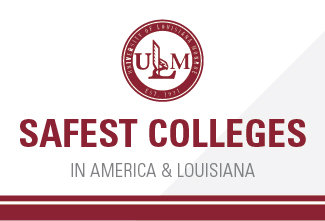 Alarms.org determined, based on data submitted to the FBI and reviewed "relative to the surrounding area of campus," that ULM ranks highest of the University of Louisiana System institutions in the study.

Nationally, Alarms.org ranked 490 colleges and universities which it deemed exceptionally safe based on FBI and police data. ULM ranked No. 257. Alarms.org is the official site of the prestigious National Council for Home Safety and Security, a national trade association of licensed contractors, alarm installers and other U.S. trade groups. 

The safety of each person on the campus of the University of Louisiana Monroe is the number one priority of the administration of President Nick J. Bruno and the University Police Department.

Each semester, free workshops by professionally trained staff are offered on self-defense and crisis management strategies. During severe weather or other hazardous conditions, students and employees are notified through special Warhawk Alerts which send text messages, automated phone calls and emails advising of the situation.

"We are committed to safeguarding our students, faculty, employees and visitors to the ULM campus," stated President Bruno. "The fact that our ongoing efforts have been recognized on a national level substantiates our dedication to the safety of all."

Institutions not considered in the survey are those with less than 1,000 students, or those which did not submit data to the FBI.

The University Police Department submits campus crime and safety reports to the FBI as required by the Clery Act. The FBI urges caution when interpreting Uniform Crime Reporting data due to a myriad of factors.