Published February 6, 2016
Cosmo magazine named "Nick and June Were Here" the #3 Young Adult book to be "obsessed" with in 2019. This new novel by University of Louisiana Monroe faculty member Shalanda Stanley, Ph.D., will make its debut at a book launch from 6-7:30 p.m., Tuesday, February 12, in ballroom A of the SUB.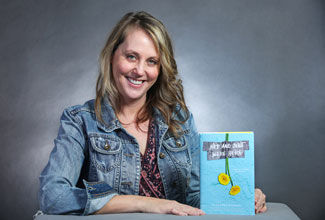 Stanley, a YA (Young Adult) author, is Interim Associate Director in the ULM School of Education.

Stanley will be joined by author John Corey Whaley, a National Book Award finalist. A Q&A will be held after Stanley and Whaley have a conversation about her latest work.

Books will be available for purchase and can be signed by the author.

"Writing this book was a challenge," said Stanley. "There were many times where I felt I had to wrestle the words out of me, and often they were the wrong words. I rewrote this book so many times. It was my love for Nick and June that kept me coming back though. I wanted to give them the best story I could and I am so happy with the end result." 

Kirkus Reviews writes of "Nick and June Were Here," "Spare, evocative prose captures the intimate details of a life in a small Arkansas town with clear-eyed affection, endearing vulnerability and terrifying honest; even the most minor characters are seen with sympathy and nuance. Not so much as a 'love story' as a story about love: romantic love but also love for friends, family, a place and a dream."

The author said writing for the YA reader sometimes carries more weight than writing for other genres.

"I believe that some of the most complex and elaborate storytelling is done in children's literature, which includes Young Adult literature. These are stories where the characters are not just experiencing typical story arcs, but who are also trying to figure out who they are and how they fit into the world," Stanley said. 

"I would even say that there is no other time in your life where a book means as much to you as when you are a child. These are the stories where children find their representation, or just as important, learn about people they have nothing in common with," she said. "They learn to appreciate everyone's differences and think critically. These stories are vital to our own growth and I hope to continue writing them for years to come."