Published August 15, 2019
University of Louisiana Monroe Risk Management and Insurance major Summer Ho was one of two national winners of the Wholesale and Specialty Insurance Association's (WSIA) spring 2019 White Paper Contest.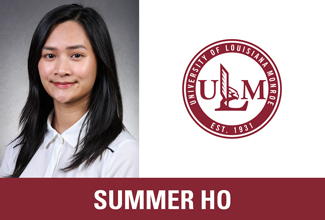 Summer's white paper, entitled "A Bullet-Proof Plan," examined the growing number and severity of active shooter incidents in the United States and recommended how the insurance industry, particularly the surplus lines or "specialty risk" industry, should respond to help manage this devastating problem. 


Summer prepared the research paper as a required assignment for the ULM RMI program's capstone course, Surplus Lines and Reinsurance. The WSIA contest began in 2010 as the AAMGA White Paper contest before AAMGA merged with NAPSLO in 2019 to become WSIA. In its first year, Rachel Stark, a ULM RMI and Accounting major was one of two contest winners. 


"The WSIA White Paper Contest is a highly competitive contest across the country.  Numerous universities, especially those hosting a risk management and insurance program, submit entries each year. We are extremely proud of Summer's accomplishment. It is an excellent paper and a well-deserved honor," says Dr. Christine Berry, ULM RMI Professor and instructor of the Surplus Lines and Reinsurance course.  


Contest winners receive $1,000 and their paper is published on the WSIA website (www.wsia.org).


Summer graduated in May 2019 with degrees in both Risk Management and Insurance and Computer Information Systems. In 2018, she interned in Charlotte, N.C., with AmWINS Group, Inc., the country's largest specialty insurance intermediary. Summer accepted a full-time position with AmWINS months before graduation.


WSIA sponsors the White Paper Contest to expand surplus lines awareness and knowledge for risk management and insurance students.  From their website, "The Wholesale & Specialty Insurance Association (WSIA) is a world-class member service organization representing the entirety of the wholesale, specialty and surplus lines industry."