Published March 22, 2019
The University of Louisiana Monroe is among 10 Sun Belt Conference institutions with Top Team GPA Awards for the 2017-18 academic year, the league office announced this week.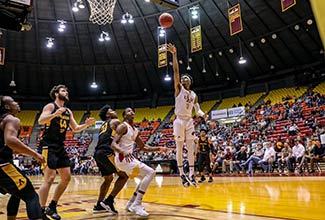 The awards honor the teams with the top cumulative team grade point average in each of the sponsored sports within the Sun Belt from the 2017-18 academic year.
Warhawks men's basketball was named a Top Team with a GPA of 2.7. Of the 10 teams, ULM was the only basketball team to earn the honor.
Head Coach Keith Richard is proud of the Warhawks for making academics a priority.

"Our program continues to do good things both on and off the court. Winning the Sun Belt Top Team GPA Award for the fourth time in the last eight years is something we are very proud of. Doing well in the classroom is an important part of being a ULM athlete and I'm happy that our players are being recognized for their good work," Richard said.

The other Top Team GPA Sun Belt institutions are, University of Louisiana at Lafayette – women's cross country, Coastal Carolina – men's cross country, Little Rock – women's soccer, baseball, Howard – men's soccer, Arkansas State – volleyball, football, women's golf, Texas State – women's basketball, Georgia State – men's golf, women's track and field, South Alabama – men's track and field and Troy – softball.