Published Nov. 4, 2019
Todd Tauzin returned to the University of Louisiana Monroe, his alma mater, on Thursday, Oct. 31, 2019, as a speaker at the annual College of Business and Social Sciences Symposium. Tauzin graduated in 1987 with a Bachelor of Business Administration in Finance and Real Estate.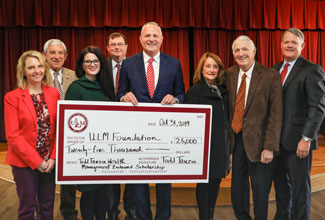 Caption:
Todd Tauzin, center, established the Todd Tauzin Wealth Management Endowed Scholarship for $25,000 at ULM. Tauzin was a speaker at the College of Business and Social Sciences Symposium on Oct. 31. Pictured, from left, are Christine Berry, director of Risk Management & Insurance, President Nick J. Bruno, Jr., Morgan P. Morgan, development officer, ULM Foundation, Ron Berry, dean of the College of Business and Social Sciences, Tauzin and his parents Caroline and Joe Tauzin and brother Paul Tauzin.                             Emerald McIntyre/ULM Photo Services
In his presentation, "The Power of Having a Plan," Tauzin shared with the mostly student audience the importance of setting high expectations of oneself, maintaining goals and compounding interest.
A press conference afterward was held announcing the Todd Tauzin Wealth Management Endowed Scholarship for $25,000 for students majoring in finance or risk management and insurance.
ULM President Nick J. Bruno Jr., Ph.D., noted the significance of Tauzin's presentation and his gift.
"It is always an honor when one of our alumni returns to participate in an event we have on campus such as the business symposium," said Bruno. "It is quite appropriate that today we announce that Todd Tauzin has established an endowed scholarship at the university."
"Scholarships such as this are critical to helping our students finance their education. Todd, thank you on behalf of the university," Bruno said.
Tauzin grew up in Bossier City. He is the owner of Tauzin Wealth Management - Northwestern Mutual Wealth Management Company in Ridgeland, Miss. His career with Northwestern Mutual began in 1988 in Dallas.
Tauzin's parents, Joe and Caroline Tauzin of Bossier City, taught him from an early age the importance of having a financial plan and making sacrifices for the future. Tauzin said the scholarship is his way of helping students reach their future academic and career goals.
"I had an unbelievable experience here at ULM," Tauzin said.
Tauzin said the relationships he formed, along with the discipline and habits he developed as a student, have served him well in his life and career. 
"I would not be where I am today without ULM," he said. "I felt it was time for me to give back to the university which has given me so much."
Ron Berry, Ph.D., dean of the College of Business and Social Sciences, said Tauzin demonstrates to students what they, too, can accomplish.
"Our purpose for this symposium is to show students what success looks like. You inspired our students with your story," Berry said. "Sharing your success financially is going to have a multiplying effect for years to come."
The ULM Foundation administers endowed scholarships and other private donations to the university. For information on giving to ULM, visit ulm.edu/foundation.