Published Nov. 12, 2019
The University of Louisiana Monroe TRIO Programs Student Support Services hosted an open house on Friday, Nov. 8, 2019, for the Annual National First-Generation Celebration Day. The day recognizes the success of students, faculty and staff who are the first in their families to graduate from college.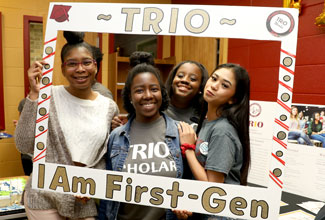 PHOTO:
Ambernae Williams, Brook Little, Miya Reed and Jasmine Thenekhamsyharath enjoying the University of Louisiana Monroe TRIO Programs Student Support Services Annual National First-Generation Celebration Day on Nov. 8. The day recognizes students who are the first generation in their families on their way to earning a college degree. 
Kaylee Sadler
/ULM Photo Services
A first-generation college student is one whose parent or legal guardian has not completed a bachelor's degree, thus making them the first in their family to graduate with a bachelor's degree from a four-year college/university.  
Catherine Estis, Ph.D., TRIO executive director, and the TRIO staff know the challenges facing first-generation students. 
TRIO Programs provides opportunities for academic development, helps students meet basic college requirements and serves to motivate students toward completion of their bachelor's degree.
According to Estis, "In fall 2018, approximately 20 percent of undergraduate students enrolled at ULM are fully eligible to participate in TRIO SSS." 
ULM faculty, staff and students were invited to tour the TRIO SSS office in Strauss 206 and learn about the services offered. The event aimed to broaden the knowledge of TRIO Programs, increase the exposure of first-generation campus constituents and to reinforce the commitment of faculty and staff to support first-generation students.
Attendees received an "I'm First" button to show their "first-gen" pride.
TRIO SSS is one of the eight TRIO Programs fully funded through the U.S. Department of Education to assist first-generation, income-eligible students to remain in good academic standing and graduate from college.
"ULM TRIO SSS strives to retain and matriculate students toward the successful completion of their baccalaureate degree by creating a model environment for student growth, retention, inclusion, and success," said Estis.
To learn more about the TRIO-SSS program or to apply, visit www.ulm.edu/trio or stop by the SSS office in Strauss Hall room 206 or TRIO Programs located in Sandel Hall 351.