January 30, 2019
Thirty students from the University of Louisiana Monroe's TRIO male mentoring program - Raising Achievement in Male Students (RAMS), which serves male students and members of Richwood High School's Cyber Literacy class, participated in a career exploration and enrichment trip to the Laser Interferometer Gravitational Wave Observatory (LIGO) Science Center in Livingston, La., on Dec. 6, 2018.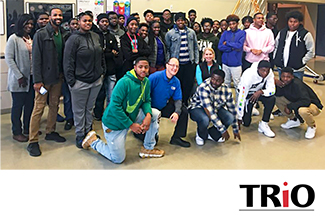 The LIGO Center is one of only two sites in the United States where Einstein's Theory of Relativity has been proven using laser interferometry to detect cosmic gravitational waves. Scientists and engineers working with the Louisiana LIGO Center received the 2017 Nobel Peace Prize in physics for their work. The RAMS got a unique opportunity to interact with these internationally acclaimed scientists and engineers. They also participated in hands-on activities in physics and physical science at the interactive exhibit hall.
Science-Technology-Engineering-Math (STEM) learning opportunities are a regular part of the ULM TRIO Program. This trip was sponsored by ULM TRIO Educational Talent Search, in conjunction with Parks Community Support Services, Inc., and Richwood High School. Contact Joe Riser, M.Ed., ULM TRIO Programs Outreach Coordinator and Community Liaison for more information, 342-1093 or riser@ulm.edu.