Published Oct. 22, 2019
University Mile founded in 1984 by Vice President of Student Affairs Camile Currier
In our age of techthusiam, memories are snapped with smartphones and posted to social media in temporary snippets of time. Words like "customs" and "heritage" are practically obsolete in digital dialogue.
But not quite. At 5:30 p.m. on Wednesday, Oct. 30 at Hemphill Hall on the University of Louisiana Monroe campus, is the University Mile, a living 35-year-old tradition as homegrown as summer zinnias.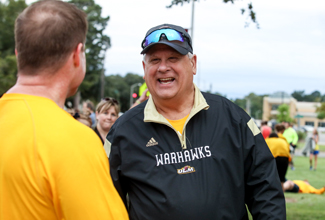 PHOTO:
 University of Louisiana Monroe Vice President for Student Affairs Camile Currier created the Homecoming University Mile walk/run 35 years ago after watching the Fifth Avenue Mile in New York City on TV. The 2019 University Mile is at 5:30 p.m., Wednesday, Oct. 30 and the public is invited. Register at the ULM Activity Center. Currier is pictured at the 2018 event. Emerald McIntyre/ULM Photo Services  
History lesson
In 1984, U.S. President Ronald Reagan called for a ban on chemical weapons and Facebook creator Mark Zuckerberg was born. That year Camile Currier, ULM's Vice President for Student Affairs, was campus director of recreational services.
One day he was watching the Fifth Avenue Mile, an annual road race in New York City. Seeing Olympian John Walker cross the finish line with a 3:53 mile, Currier was inspired.
"I was at home one Saturday afternoon and the Fifth Avenue Mile came on TV. It's a big race held in New York City every year. I was an old trackman and I thought, 'That would be an easy event to do,'" Currier said.
He knew the perfect time and place to do it.
WHAT: ULM's 35th Annual University Mile
WHEN: 5:30 p.m. Wednesday, Oct. 30
WHERE: Starts at Hemphill Hall, ends at ULM Activity Center
COST: $15 for students and $20 for the public, includes a *T-shirt (*size not guaranteed)
INFO: Register at Activity Center or before the race at Hemphill Hall by 5:15 p.m. For details, call 318-342-5305 or Facebook/35th Annual University Mile
"At that time, we were having a homecoming parade down Louisville Avenue. The first race started at the old Sears building, now the North Louisiana Orthopaedic & Sports Medicine Clinic. We felt like that was a good starting point because the parade started at North 18th Street," he said. "We went from there and measured one mile. It came out to be in the parking lot of what's now Hibbett Sports."
The student newspaper The Pow Wow (now The Hawkeye), reported the parade for the university's 52nd homecoming was on Saturday, Oct. 13, 1984. There were 90 entries in the parade, and the grand marshal was U.S. Congressman Jerry Huckaby. Dwight D. Vines was president of the university. 
"At that time, we had a lot of floats, high school bands, Sound of Today Marching Band and all the student organizations. It was a pretty neat parade. It started at 9 a.m. on Saturday and the entire community came out," Currier said.
That was the day of the first race, which was called The Louisville Mile.
"We had almost 800 runners the first time we did it. It was really big," Currier said.
High spirits and student workers
For years, the runners would take off just before the homecoming parade started and there were plenty of antics that entertained parade-goers on both sides of Louisville Avenue.
"H.P. Jones used to walk in his cap and gown. We had fraternity guys pulling guys in a rickshaw. Some people were in grocery carts and they pushed them for a mile," Currier recalled.
Currier said the students who worked in Recreational Services might show up a bit bleary-eyed early on race-day Saturdays. Currier expected "all hands on deck" – and added an incentive for his student workers.
"I used to take all the kids that worked to Shoney's afterward. That was one reason they all came to work; they got the breakfast buffet at Shoney's," he said.
Everything changes
As times and lifestyles changed, the homecoming parades stopped, but not the race.
ULM Special Projects Officer and Title IX Coordinator Treina Kimble came to ULM in September 1991. Currier hired her as the wellness coordinator for the Activity Center, which was under construction. It opened in March 1993.
"When I came to work for him 28 years ago, we were doing it on campus," Kimble said. "It was always a fun time. It still is. The real serious runners use it as a cool, short-run test for them. It's fun to see who's going to really bust out of there and do great."
When Kimble mentioned the dedicated runners, Currier was reminded to caution the more casual participants.
"We have to tell those who are going to jog and walk, be sure to get behind the front line because if you don't, you are going to get run over," he said.
"You can have your baby in a stroller and little kids. We have lots of employees who come out and bring their children," Kimble said, who often brought her daughter Rachel when she was a little girl.
Brandon Bruscato, director of ULM Recreational Services, said the race came to campus in 1999 and that's when the name was changed. That year there was a student contest to design the race T-shirt and that continues today.
"The race was moved to campus after a number of years and became the University Mile. It was still run on Saturday morning on homecoming day. In 2002, the race was changed to the Wednesday of homecoming week, where it has been ever since," Bruscato said.
Join the tradition
Although the location and the name have changed, the distance of 1 mile remains the same.
Currier said that's important.
"That's what makes it unique because so many people can participate. Kids, the older crowd, everybody feels like they can walk a mile. It was, and still is, mainly a social event for most people," he said.
Currier looks forward to the event every year, and doesn't remember a time he didn't walk Louisville Avenue or make the homecoming University Mile through campus.
"I'll be there. I wouldn't miss it," he said.
Whether it is a stroll or runner's pace from Hemphill Hall to the ULM Activity Center, all are welcome to participate. To get the T-shirt and be eligible for prizes, you must register at the Activity Center or by 5:15 p.m. at Hemphill Hall before the race. It's $15 for students and $20 for everyone else. For details, call the center at 318-342-5305 or visit Facebook/35th Annual University Mile.
Or, before you leave the house the morning of Wednesday, Oct. 30, toss your sneakers in the back seat. After work, head to ULM. There is plenty of parking near Hemphill Hall on University Avenue and you cannot miss the crowd.
You are invited to join us and start a tradition of your own – celebrating the university which gives so much to Northeast Louisiana. Be a part of the Best on the Bayou.
#thebestisonthebayou #ulmuniversitymile35