Published Nov. 5, 2019
The University of Louisiana Monroe will host its annual ULM Veterans Day Appreciation Ceremony at 9:30 a.m., Monday, Nov. 11, 2019, at The Terrace, located on the seventh floor of the ULM Library.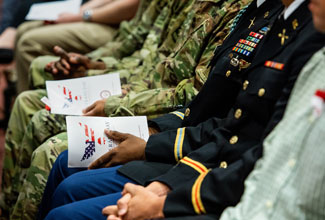 Faculty, staff, students and retirees of ULM who are U.S. veterans or on active duty will be recognized by President Nick J. Bruno, Jr., Ph.D.
"The men and women we honor on Veterans Day are reminders that people we will never know courageously carried the future of this nation on their shoulders," said Bruno. "We have an opportunity and an obligation to express our gratitude. I hope everyone will join us in doing so on Monday."
Members of the community, especially veterans, are invited to attend.
Please click here or visit https://www.ulm.edu/omc/veteransday/ to register/RSVP as a veteran or a guest by Friday, Nov. 8.
For information, contact Hope Young, ULM Marketing and Communications, hyoung@ulm.edu, 318-342-5445.