Published April 26, 2019
The University of Louisiana at Monroe recently opened its newest cutting-edge opportunity, the Thomas J. Nicholson Virtual Reality Lab. Thanks to a generous donation from the Jean and Saul A. Mintz Foundation, a lab with 28 student stations with Oculus Go 64GB VR headsets and headphones and an instructor's station has been established in the ULM Library. It also features two networked projection screens.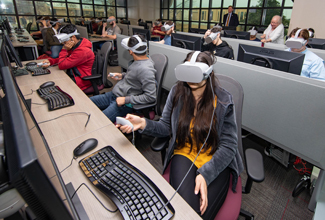 The lab will be officially dedicated at an event at 1:30 p.m., Monday, April 29 in Room 259.
The lab can be scheduled for classes and has open hours from noon-4 p.m. and 5-10 p.m. on Tuesdays and Thursdays. Currently, users have access to several different software programs including Breaking Boundaries in Science, The Body VR, Jurassic World: Blue, YouTube VR and many others, with ULM-made content coming soon.
The VR lab is the most recent collaborative initiative between the Office of Information Technology and the library. It represents a significant part of the library's evolving Information Commons taking shape on the second floor.
"This is an exciting opportunity for ULM that will enhance the traditional classroom learning experience for our students and also open up research possibilities across the disciplines," said Thomas Hoover, CIO and Dean of Library Information Technology.
The lab will also enhance the learning and teaching experience of the campus community. The lab has already had an impact beyond ULM as students from Woodlawn Middle School have used the facility. Additionally, several ULM faculty have brought their classes to use the lab, representing several different colleges and disciplines across campus including education, geography, marketing, computer science and astronomy.