Published Nov. 6, 2019
The Wally Jones Golf Complex at the University of Louisiana Monroe will have a ribbon-cutting and grand opening at 10 a.m. on Friday, Nov. 8, 2019.
The community is invited to attend the event and tour the complex, named in honor of longtime ULM golf coach Wally Jones. Jones died Oct. 17, 2018, at the age of 90.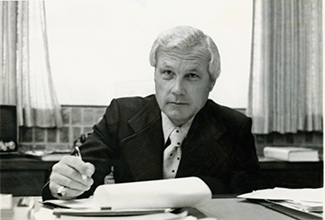 PHOTO: Wally Jones, Ed.D., in an undated photo from ULM Special Collections. 
The $800,000 facility was funded entirely by donations to the ULM Foundation SOAR Campaign. It is located between Brown Stadium and Warhawk Field. The 5,000-square-foot building includes three coaches' offices, men's and women's locker rooms, guest restroom, three storage rooms, kitchen and players' lounge. It features an indoor 1,000-square-foot, state-of-the-art SAM PuttLab and TrackMan Golf Simulator.
Outside amenities include a covered tee area, 6,000-foot tee area and five target greens ranging from 50-165 yards. Additional plans include a chipping-pitching green, bunker and putting green.
The complex was designed by architects Brian McGuire and Robert Ellis and built by Bing Bishop Construction.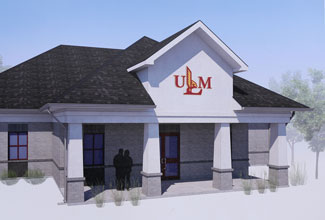 ULM Director of Golf and head coach Tim Baldwin said the facility would allow student-athletes to train for world-class tournaments and adds an important recruiting element.
"We are very excited about the new Wally Jones Golf Complex and what it means for ULM Golf. Our players, coaches, administration and the golf community have an exceptional place to call home," Baldwin said. "Our recruiting has taken a major step forward. This complex, coupled with our Selman facility and support of local country clubs, will attract high-quality student-athletes to ULM."
Special guests Friday will be Jones' wife, Angylyn, daughter and son-in-law Shannon and Dickie Raymond of Monroe, son Dr. Kyle Jones of Shreveport and family and friends.
Jones' daughter said her father would have been proud and honored by the new complex.
"For 18 years, my dad coached and worked with the then-Northeast golf program. He worked hard to build this program into something this university could be proud of. I wish he could see this awesome golf complex that is named for him," Raymond said.
"Our family would like to thank all the generous donors and Coach Tim Baldwin. He worked so hard and kept my mother informed along the way. We would also like to thank ULM and all the people who worked to make this possible. We are so proud of our Coach Wally Jones and the honor that has been given to him," she said.
Wally Jones – education and golf
Wallace "Wally" Lucas Jones Jr. was born in Charleston, S.C., in 1927 and grew up in Baton Rouge. He was an outstanding athlete in basketball and baseball at Baton Rouge High School. He attended LSU on an athletic scholarship in both sports.
Education was as important to Jones as athletics. After receiving his Bachelor of Arts, Jones went on to earn a Master of Education and Doctor in Education Administration from LSU. His doctoral dissertation was a historical study of "Compulsory Education in Louisiana." Jones directed the first statewide study of high school dropouts and was the author of several publications on the topic. 
He served in the U.S. Navy during World War II.
Jones worked for the Louisiana Department of Education for eight years before moving to Monroe in 1966 to be an assistant professor of education at then-Northeast Louisiana State College. He was appointed head of the Department of Administration, Supervision, and Foundations in the College of Education. Jones became a full professor in September 1976. That same year he started coaching the golf team.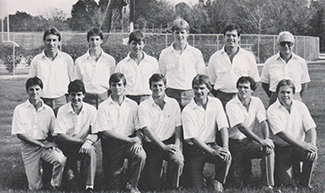 PHOTO:
Wally Jones, standing, right, pictured with the golf team in the 1987 Chacahoula. ULM Special Collections
Jones grew the program with support from his Athletics Director John David Crow and private funds from the booster club that he helped develop. 
Ken Buchan, a former player under Jones, in a 2018 interview described him as the "… 'Founding Father' of ULM golf as we know the program today."
"He was instrumental in getting the local golfing community involved in supporting NLU/ULM golf, which has been critical to the program's success and survival over many years. His support for ULM golf continued long after he stopped coaching, which we are all grateful for," said Buchan.
Jones expanded the scope of tournament play to an international level by taking his team to play in places like Mexico, Scotland and the Bahamas and adding players from around the globe. He was largely responsible for acquiring an on-campus practice facility exclusively for his team.

"Coach had a vision to build a program that would be able to endure, and in that respect, he has been very successful," Buchan said. "The foundation he laid has allowed a lot of young golfers to be able to play competitive college golf, get an education, and go on and become productive citizens. 
ULM honored Jones with a namesake award and tournament over the years. The ULM Golf Team partners annual award is named in his honor, as well as a ULM golf tournament established in 2012.  
"We present an annual award each year to a booster in his name for special contributions to our golf program," Baldwin said. "It is called the Wallace Jones Team Partner of the Year. This is a very special honor and has been going on for over 20 years."

Baldwin, ULM's coach since 2015, said he had a history with Jones that predates his arrival in Monroe. 

"Our golf community is very special and close, and I think this is a tribute to Wally," Baldwin said. "He actually recruited me back in 1983 when I was a high school senior in Michigan. I signed with Southeastern Louisiana University, but even as a player at a competitor school, he was always very nice to me. Wally was very happy when he heard I was coaching at ULM." 

An accomplished golfer himself, Jones won the 1986 Louisiana Seniors Match Play Championship after losing in the finals the previous year. As a member of the Bayou DeSiard Country Club since 1967, Jones was always at the center of the local golf scene.