Published September 19, 2019
The University of Louisiana Monroe Water Ski Team is the best in the nation with 29 National Collegiate Water Ski Association National Championship titles.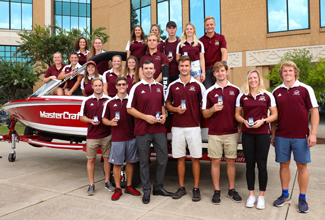 PHOTO:

 
The University of Louisiana Monroe Water Ski Team has a new 2020 MasterCraft ProStar Ski Boat in time for training for the collegiate national championship in October. The team is competing for an unprecedented 30th national title. Recently a ceremony was held at ULM where the new boat was presented and team members were given their rings for winning the national title for the 29th time in 2018.   Emerald McIntyre/ULM Photo Services
In less than a month, the crew from the bayou will defend that title and compete against the other most talented student-athlete water skiers in the country for an unprecedented 30th national championship. The Warhawks will travel to Bell Acqua Lakes, Calif., near Sacramento, with one goal in mind: to out-ski everyone else. 
ULM recently gained an essential piece of equipment to help them ski faster and jump higher – a brand new 2020 MasterCraft ProStar with an Ilmor 6.0L engine. It is the first of its kind in Louisiana.
At a ceremony on Sept. 10, the new boat was presented and team members were awarded rings for their spectacular skiing in 2018 which garnered the Warhawks' 29th title.
Michael Woodgate, ULM Water Ski head coach, is excited by this enormous gain for the advancement of the team.
"Thank you to Camile Currier and President Dr. Nick Bruno for their continued support of the water ski team that enables us to train at the best collegiate facility in the nation and allows us to be in a position, year after year, to compete for and win national championships," Woodgate said.
As a ULM club sport, the ski team is under the supervision of the Office of Student Affairs Vice President Camile Currier.
"We are so proud of our national champion ski team. Not only have they excelled on the water, but they have excelled in the classroom and beyond," Currier said. "To be able to purchase this first-edition, top-of-the-line boat with the assistance of MasterCraft Boats and B & L Marine is a testament to how truly gifted these world-class student-athletes are. They are working hard to achieve our 30th national championship in Sacramento, California, October 10-12."
Currier thanked B & L Marine General Manager Nick McDonald, a ULM alumnus and former wake board team captain; Aarne Clowe with MasterCraft Boat Company, another ULM alumnus and former member of the ski team; Allen Otts with the ULM Foundation; Woodgate and Cheri Perkins and her staff in purchasing, who worked collaboratively to make the boat purchase possible. Through their efforts, the ULM Water Ski Team received the "first" 2020 Mastercraft ProStar Ski Boat to come off the assembly line.
It is fitting that ULM is going after its 30th national championship in 40 years. That's how many years ago the first National Intercollegiate Water Ski Championships were held – at ULM on Bayou DeSiard, Oct. 13-14, 1979 (http://www.ncwsa.com/tbt-fun-and-good-skiing-at-the-first-national-intercollegiate-championships/). The ULM Water Ski Team was founded in 1977, but at the first nationals San Diego State edged the host team by 10 points.
The 2019 ski team members include: Dominque Allard-Gronin, Veli-Matti Anttila, Emma Brunel, Amanda Bryans, Luiza Charnyshova, Danylo Filchenko, Viktar Gorbaczuk, Alex King, Sofiia Maksymenkova, Lily Meade, Lea Miermont, Katie Nutt, Sanchia Outram, Stefan Petrenko, Tom Poole, Lieke Rolvers, Brandon Schipper, Garrett Stallings, Katerina Svecova, Sara Vesterlund and Michael Woodgate.
Upcoming tournaments:
• Sept. 21 –  Bayou Classic, Bennett's Water Ski & Wakeboard School, Zachary, hosted by ULM
• Sept. 28-29 – NCWSA Regionals, Aquaplex, Buda, Texas
• Oct. 10-12 – Syndicate Waterskis 2019 NCWSA Nationals, Bell Aqua Lakes, Sacramento, Calif.
For more information on ULM Water Ski, contact Michael Woodgate at woodgama@warhawks.ulm.edu or 318-342-7909. To watch the October 10-12 nationals, go to ncwsa.com/webcast/2019nationals. Check out the ULM Water Ski Team on Facebook and Twitter @ULMWaterSkiTeam.
#thebestisonthebayou #ULMskiteam30
Contact Hope Young, Marketing and Communications, hyoung@ulm.edu, 318-342-5445.