Published May 5, 2020
Amy Weems, Ed.D., assistant professor at the University of Louisiana Monroe School of Education in the College of Arts, Education, and Sciences, has been named to the advisory council of the economic recovery task force assessing the needs of Northeast Louisiana.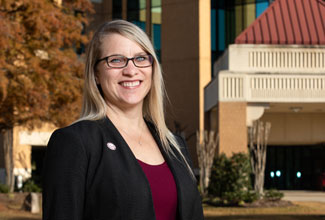 Weems, of Monroe, was appointed by Friday Ellis, who represents North Louisiana on the Louisiana Legislative Advisory Task Force on Economic Recovery. Ellis formed the local advisory council of individuals representing different sectors of the region, including business, education, human services, agriculture, and others.
The Louisiana Legislative Advisory Task Force on Economic Recovery is charged with developing comprehensive policy, legislative, and regulatory recommendations to immediately restart the Louisiana economy and to invest in the long-term recovery of households, workers, and businesses from the COVID-19 crisis.
"I have been asked to be a representative of education, which includes higher education and K through 12," Weems said. "I'm honored to be part of this important work as an advocate for education at all levels."
At ULM, Weems coordinates the secondary education undergraduate program and Master of Arts in Teaching internship, advises teacher candidates, directs the Educators Rising program, and works with students participating in practicums and residencies. In the wake of the school closures due to COVID-19, she is a co-developer of a program of action/outreach to elementary and secondary teachers to help them transition to online learning environments.