Published March 10, 2020
The University of Louisiana Monroe hosts LifeShare Blood Center for the Battle of the Bayou Blood Drive: Out for Blood competition between ULM and Louisiana Tech, March 16-20. The blood drive is sponsored by Medical Laboratory Science.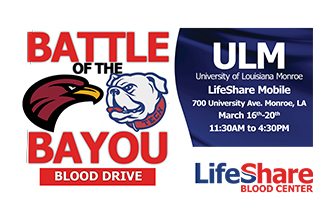 "There is a critical blood shortage," said Debbie Wisenor, Associate Professor and MLS Program Director. "Your blood donation will be provided to someone fighting cancer, sickle cell, a surgery patient, or an accident victim."
The LifeShare donor bus will be in Warhawk Circle daily from 11:30 a.m.-4:30 p.m.
"Talons out Warhawks. Let's beat Louisiana Tech by having the best blood drive ever with the most donors," said Wisenor.
For more information, contact David Karakash at LifeShare, 318-322-4445 or david.karakash@lifeshare.org.