Published March 17, 2020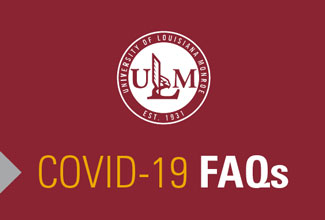 1. Why are face-to-face classes being moved online and events being cancelled?

According to the Centers for Disease Control and Prevention, the best way to prevent illness is to avoid being exposed to the virus. Social distancing reduces the probability of contact between individuals that may or may not be contagious. The CDC recommends cancelling or postponing mass gatherings that consist of 50 people or more for the next 8 weeks. 
2. How long will classes be delivered online?

Face-to-face classes will be delivered online for the remainder of the Spring 2020 semester. 


3. Is campus closed?

No, residential halls are open along with food services. Administrative offices also remain open. All face-to-face courses will be resumed in an online format on Thursday, March 19, 2020.

4. What about my advising appointment?

Check your Warhawks email from the Student Success Center for an update regarding advising appointments.

5. Is the registration date still valid?

Yes, there is no need to move the registration dates because the process can be completed completely online.

6. Is the Write Place open?

The Write Place is taking virtual appointments. To make a virtual appointment with the Write Place, click here.

7. What are dining hall hours?

Schulze Dining hall hours remain the same.

Some locations in the SUB will be open Thursday, March 19, 2020.
Grille Works hours: 7 a.m.–7 p.m. / Subway hours: 10 a.m.-7 p.m.

8. What are the bookstore hours?

Bookstore will be open Monday – Friday, 8:00am – 12noon
9. What about the spring fever concert? Will there be refunds?

Spring Fever concert is cancelled. Yes, there will be refunds issued.
10. What are activity center hours?
In alignment with guidance from Governor Edwards and in abundance of caution, the ULM Activity Center will be closing beginning Tuesday, March 17, 2020 at 8:00pm until further notice. 
11. What about Spring commencement?

University administrators are monitoring the COVID-19 situation and will make a decision regarding commencement at a later date.

12. Will the campus post office remain open?

Post office will remain open.

13. The withdrawal drop date is Thursday. Do you think the withdrawal date will be moved considering the switch to online?

The full-term withdrawal "W" date will remain this Thursday, March 19.

14. Does the ULM Health Clinic have COVID-19 test kits?

If you begin to exhibit symptoms of COVID-19, fever, cough, and shortness of breath, call your primary doctor of the ULM Health Clinic to determine if testing is needed. The ULM Health Clinic or your primary doctor will route you to the appropriate testing site if required.

15. Will tutoring be available? Especially now with online classes?

The University Library computer labs and Student Success Center computer labs will remain open and will implement social distancing best practices as defined by the Centers for Disease Control and Prevention.

Tutoring and supplemental instruction is to be determined.
16. What is the deadline to apply for off-campus housing for the Fall 202 semester?

That deadline is 5 p.m. April 1st.

17. What other changes are occurring to enhance our safety?

Schulze Dining is moving to a to-go plate and is eliminating all self-grab-and-go options. Everything will be served.
Starbucks has moved all of its locations to a grab and go.