Published Jan. 22, 2020
See Emerald McIntyre's photos from Day of Service here, https://zenfolio.page.link/Y6Ms5
For a decade, the University of Louisiana Monroe and Louisiana Delta Community College have partnered on MLK Day of Service to address a need in the Monroe area.
An initiative of the Corporation for National and Community Service (nationalservice.gov), MLK National Day of Service is on Martin Luther King Jr. Day, the third Monday in January.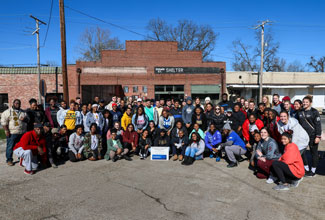 "The two campuses come together for the benefit of the community," said university organizer Pamela Higgins Saulsberry, Ph.D., ULM professor and Social Work Program Coordinator in the School of Behavioral and Social Sciences.
"This was one of the best years for the support we had across ULM's campus community," said Saulsberry.
Giving their time and energy were members of the Warhawks women's basketball team, beach volleyball and indoor volleyball teams, dental hygiene students, Greek organizations Delta Sigma Theta, Alpha Phi Alpha, Alpha Kappa Alpha, Delta Sigma Phi, Omega Psi Phi, Phi Beta Sigma and Kappa Sigma, student organizations, Circle K International, Kitty DeGree School of Nursing, Student Social Work Association, ULM NAACP, TRIO, and individual students and faculty.
ULM and LDCC volunteers assisted at Grace Place Ministries Inc., 1600 Jackson St., which operates a soup kitchen, clothes closet, and food pantry, and DeSiard Street Shelter, 807 DeSiard St., which provides free meals and services to the homeless.
Strauss Hall served as a campus and community drop-off center for items donated to Grace Place. On Monday morning, Strauss was buzzing with ULM volleyball players busy packaging and loading the donations. ULM and LDCC volunteers then delivered and unloaded the items at Grace Place. Volunteers from dental hygiene talked about oral health and gave free dental care packages to individuals at Grace Place.
Charlie Olson, coach of the ULM beach and indoor volleyball teams, said 20 players participated in the Day of Service.
"Being a part of the university and the athletic department, you take a look at yourself and you know it is imperative to give back. What better way to be a part of the greater good than MLK Day of Service. We heard about the opportunity and any team member in town jumped at the chance. They love community service," Olson said.
Monday afternoon, 100-plus volunteers, most from the ULM community, arrived at DeSiard Street Shelter to help organize and clean a warehouse in preparation for renovations to expand the shelter's services.
"It was refreshing to see the number of students there helping. These students walked three blocks to the warehouse. It was a festive, wonderful occasion," Saulsberry said.
DeSiard Street director Billy Bonner was impressed by the enthusiasm of the students and the accomplishments made in just a few hours. Thanks to the volunteers, immense progress was made toward the expansion. 
"It made a significant difference in the time it will take to renovate the facility. What they did Monday is going to benefit the community for years to come," Saulsberry said. "I am very, very proud of the ULM community and their service."
ULM Warhawk women's basketball team head coach Brooks Williams said community involvement is an important part of their program. Thirteen student athletes and graduate assistants participated in the Day of Service.
"We want to give back. We are here to serve the Monroe community and the ULM campus. We're very fortunate in sports, and in a lot of organizations, that you have a drive to work together and help others in a team setting," Williams said. "In a volunteer setting, you come together, work together and complete a task for others. Community service is fantastic team-building for us. Not only do we help them, they help us."
Over the years, Saulsberry has noticed that when ULM students are aware of a community need, they are eager to help.
"Often, students don't participate because they aren't asked. Once asked, they will do it. I saw that exemplified on Monday," she said.
#thebestisonthebayou #takeflight #DayON25