Published Sept. 29, 2020
By Hope Young
The last place Donald "Don" Simpson, Ph.D., imagined he'd be on a hot day in late August was standing on the roof of the home of people he did not know.
The new dean of the University of Louisiana Monroe College of Health Sciences, high-powered leaf-blower in hand, removed limbs and debris from an elderly couple's house after Hurricane Laura hammered northeast Louisiana.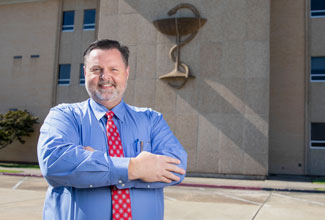 PHOTO:
Don Simpson, Ph.D., is the new dean of the University of Louisiana Monroe College of Health Sciences. The Bernice native returns to Northeast Louisiana with an extensive background in the health sciences as a faculty member, researcher and university administrator. Sid Gaulee/ULM Photo Services
Simpson's volunteering for the post-hurricane cleanup illustrates why this son of the pine hills of Union Parish returned after more than 30 years – he's here to help.
An example of synchronicity in action, Simpson said the opportunity at ULM "was just a perfect fit because of the involvement with VCOM and the ecosystem of the programs in the College of Health Sciences."
Simpson is the former director of the Master of Medical Science Program at Lake Erie College of Osteopathic Medicine in Bradenton, Fla.
"This is a position that really married all of my interests. Having experience with osteopathic medicine, dealing with holistically rural areas, and a passion for underserved communities," he said.
Growing up in Bernice (population 1,620 in 2018), Simpson understands the myriad of needs in the region, especially adequate, available health care. The quality of life in the Louisiana Delta is stagnant at best, and declining at worst. Simpson believes ULM Health Sciences is essential to its transformative change.
"The riddle is yet to be solved about getting people access and improving health. Your ZIP code shouldn't determine whether you live or die, but it does," he said.
"Everything changes in health care, in the economy, and education. But the one thing that's perpetuated is poverty, which is manmade, and the underserved health disparity."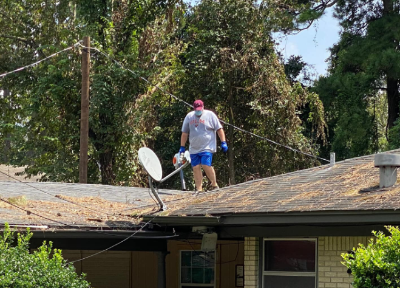 PHOTO:
College of Health Sciences Dean Dr. Don Simpson cleans the roof of an elderly couple's home following Hurricane Laura. Simpson joined ULM's volunteer cleanup effort the day after the hurricane. Julia Letlow/ULM
"When a person, like myself, is at a point where they want to do and be where they want to be … I'm here by choice. We are all-in with regard to the opportunity that Monroe poses, and always has," he said. The "we" is Simpson and his wife, Shelley.
With an ever-struggling economy brought further down by COVID-19, Simpson said now is the time to promote health sciences education.
"There's such a need for health sciences and health professionals. Usually, when the economy tanks is when people go back to school. There's no better time to be in school, in health sciences, at this point," he said.
The College of Health Sciences is moving toward growth, and that involves more than recruiting students.
"Developing new programs and examining traditional programs; looking for ways we can serve the underserved, public health and health services administration, these kinds of programs are needed," he said.
But first, Simpson must find ways to train students during COVID-19.
"The biggest challenge is trying to educate the health care heroes of tomorrow with limited, often non-existent resources. For instance, trying to get PPE (Personal Protective Equipment), so students and patients are protected," he said.
Finding ways for faculty to grow professionally and pursue their research interests requires more than one discussion.
"Just as the college is really a delicate ecosystem of different programs, the people and the personalities and needs and passions differ as well," Simpson said.
"What works for you or me might not work for someone else. How do we knock down the barriers to facilitate communication so that program directors and faculty feel like they have a voice and are heard?" he said.
"There's such a need for health sciences and health professionals. Usually, when the economy tanks is when people go back to school. There's no better time to be in school, in health sciences, at this point." 
Dean Dr. Don Simpson
ULM College of Health Sciences
Simpson gave several examples: do faculty have the flexibility to do the research they are interested in, can they teach online instead of face-to-face or take a clinic role in developing a clinic process or procedure.
"(We) must really look for ways to help people develop and help to get them there. To find their voice, articulate that piece, and what support is needed and show them where we can get the resources," he said.
Simpson has definite ideas on partnerships.
"We need to partner appropriately and responsibly so we benefit and also our partner develops. We need to develop more clinic space, and we must ask, what do they need? Do they need students? Do they need graduates? Do they need rad techs? Do they need dental hygienists? You provide the rotation spots; we'll provide the students. It's that symbiotic relationship that, as a college, I think we need to look for," he said.
Simpson said we must be aware of the world students live in – before and beyond COVID-19. That is where development comes in.
"Many of our students are just one flat tire away from academic difficulty. Too many times, their dreams or their career choice is derailed by their personal life. One of the things I think is important in this position, and the role of the college is development. I want to create an emergency fund for students in need. If somebody needs a tire, we can buy that tire. If they need assistance with housing, we can provide that, or daycare, or whatever so they can go to their rotations, and they can graduate and make a living that pays the bills."
Hurricanes and pandemics aside, Simpson said he's here to provide the leadership to transform lives.
Referring to the book "Good to Great" by Jim Collins, Simpson said the College of Health Sciences is poised to do just that, move from good to great.
"It's time to do some great things, with regard to the opportunity and the passion that people have, they just need the support and leadership for that to happen."
About Dean Don Simpson, Ph.D.
Simpson holds two bachelor of science degrees – microbiology from Louisiana Tech and cytotechnology from the University of Arkansas for Medical Science, a Master of Public Health from Tulane University School of Public Health and Tropical Medicine, and a Ph.D. in Health Sciences from the University of Arkansas.
Simpson's resume, referred to as "curriculum vitae" in academia, reads as if it belongs to two, maybe three, people.
He has held director, dean, and tenured faculty positions at; the University of Arkansas for Medical Sciences, State University of New York (SUNY), and Lake Erie College of Osteopathic Medicine.
Simpson led a $9.7 million project to develop a Biomedical Services Program in Nambia, Africa, and then secured funding for financially and socially disadvantaged students to attend.
An example of his SUNY work, Simpson obtained $6 million to fund a vector biology laboratory in the Center for Global Health and Translational Science.
In Riyadh, Saudi Arabia, Simpson developed licensed curriculums in Medical Laboratory Science and Radiologic Imaging Sciences, the equivalent of ULM's MLS and Rad Tech programs.
He's worked as a microbiologist, morgue attendant and autopsy assistant, cytotechnologist (the study of cells and their abnormalities, such as in cancer), and a researcher in pediatrics and emergency medicine, to name only a few.
As UAMS College of Health Professions faculty, Simpson coordinated cytotechnology student rotations. Simpson's cytotechnology lectures span fine needle aspiration of the lung to the criteria for cancer cells' diagnosis. In the UAMS College of Medicine Department of Emergency Medicine, Simpson teased with the intriguing lecture title, "Organizing Your Curiosity: The Anatomy and Physiology of Research." Simpson co-developed the presentation, "Spiritual Surgery: To be a Trauma Surgeon in Israel," to raise awareness and funds for terrorist bombings victims.
Simpson's research experience started in 1998 as program evaluator for a breast cancer project in Arkansas. Spanning 19 years, Simpson served as project manager, director, coordinator, or co- or principal investigator on 21 health-related research projects. He also received nine educational grants.
His research experience ranges from women's, children's, and adolescent health to bacterial pathogens to pharmaceuticals.
He has authored or co-authored 23 publications, four book reviews, one book, and 66 peer-reviewed abstracts in journals associated with public health, pathology and laboratory medicine, pediatrics, emergency medicine, and pulmonary medicine.