Published April 20, 2020
Watch the Hawkline National Championship dance routine here
For the University of Louisiana Monroe Hawkline, the annual American Dance/Drill Team Collegiate Championship looked different this year. The competition was canceled and transitioned to a virtual format on March 13 due to the COVID-19 outbreak.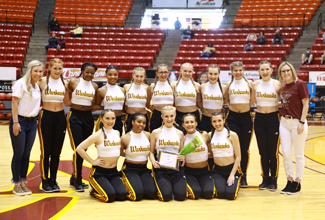 The team was still allowed to submit its videos to compete, however. On April 16, ULM Hawkline was named National Champions for the Virtual ADTS 2020 competition- placing first in the hip hop category and overall collegiate category. 
Sonni Bennett, Assistant Director of Student Life and Spirit Groups and Hawkline Head Coach, describes how proud she was of her team with the difficult transition news after countless hours of practice for a tough routine.
"This team worked tirelessly until March 13 when we received the message of our nationals being canceled due to the epidemic. We were all completely devastated. We thought it was all a waste. We thought all of the blood, sweat, tears, injuries, and hard work was for nothing until it wasn't. The pride I felt in that moment was indescribable. I could not be more proud of this team. They have been an absolute joy to coach. We are thrilled to be back-to-back National Champions for the first time in ULM dance team history," Bennett said.
Team members that participated in the competition include: Emily Healy, senior, communication/Spanish, Monroe; Regan Howard, junior, mathematics, Alexandria; Katie Taylor, senior, dental hygiene, Alexandria; Kennedy Boston-Woods, junior, marketing, Monroe; Sarah Ford, senior, health studies management/marketing, Slidell; Julia Claire Williams, senior, biology pre-med/chemistry, Kinder; Sara Ross, sophomore, pre-dental hygiene, Bossier City; Mallory Sprehe, sophomore, risk management and insurance, Ponchatoula; Daija Essien, junior, pre-pharmacy, West Monroe; Valerie Paige, sophomore, pre-nursing, Bogalusa; Maegan Vallee, sophomore, pre-nursing, Pineville; Katherine Johns, freshman, kinesiology pre-physical therapy, Denham Springs; Carmin Velasquez, junior, political science/communication, Sterlington; and Morgan Lancaster, sophomore, kinesiology sports management/business administration, Waterproof.
"These girls were such a blessing to coach. Their hard work and determination are out of this world. Every practice they gave 110%, and I couldn't have asked for more. They deserve this win, and I am so proud to call them National Champions," says Kayla Attaway, Hawkline assistant coach.
Hawkline recruited Mackenzie Salter Grassi to choreograph the strenuous routine that won them this year's title. The team practiced every day for two months and still had three weeks of preparation to go when the championship was canceled.
"It's very exciting to be able to defend our title, given the circumstances. We pushed ourselves to new limits with that dance, and it's just a great, rewarding feeling. I'm so proud of my girls!" says Regan Howard, Hawkline captain.
Congratulations to the University of Louisiana Monroe Hawkline team!
#TheBestIsOnTheBayou #GoHawks #HawklineChamps