Published Nov. 5, 2020
The Louisiana Cancer Foundation (LCF) added another $10,000 donation for the continuing research by Paul Sylvester, Ph.D., of the University of Louisiana Monroe College of Pharmacy. Since 2005, LCF has contributed $137,500 to Sylvester's breast cancer research.
A check presentation was held Oct. 29, 2020, during Breast Cancer Awareness Month.  Attending were ULM President Dr. Ron Berry; James Adams, executive director of the Northeast Louisiana Cancer Institute and LCF; Glenn Anderson, Pharm.D., dean of the College of Pharmacy; Donna Jackson, assistant director of the LCF and Sylvester.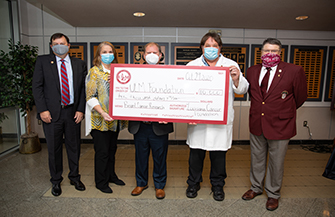 PHOTO: The Louisiana Cancer Foundation presented a check for $10,000 to the University of Louisiana Monroe Foundation for the breast cancer research of Dr. Paul Sylvester of the College of Pharmacy. Pictured are, from left, ULM President Dr. Ron Berry, Donna Jackson, and James Adams of the LCF, Sylvester, and Dr. Glenn Anderson, dean of the College of Pharmacy.
Sid Gaulee/ULM Photo Services
Adams said 15 years ago the foundation board was seeking a way to fulfill the LCF's mission to support cancer research.
"We initially met Dr. Paul Sylvester and were immediately impressed with his research using tocotrienols for breast cancer prevention and treatment," Adams said. "Since we are a local cancer foundation with all monies being raised locally and redistributed back into our community, we thought it fitting that we supported cancer research being conducted at the ULM College of Pharmacy."
Sylvester expressed his gratitude to the LCF, saying, "It has been an honor and privilege to be part of this long collaborative relationship with the Louisiana Cancer Foundation. The foundation's support and interest in our research have not only been of great benefit to our research efforts but has also resulted in the formation of some very dear friendships with the foundation's board members." 
Sylvester and tocotrienols
Dr. Paul Sylvester joined the ULM College of Pharmacy in 2001. He is associate dean of research and Pfizer, Inc. B.J. Robison Endowed Professor of Pharmacology.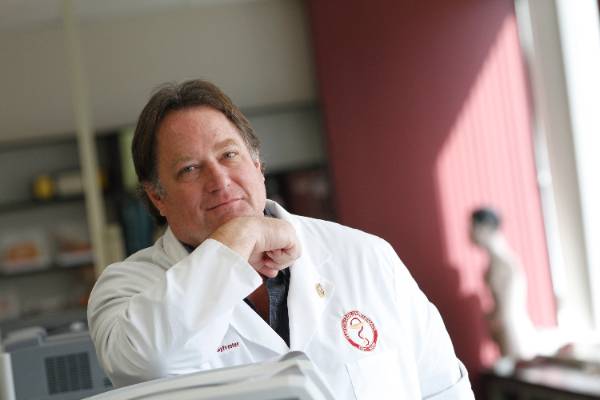 An endocrinologist, his research has focused on endocrine-dependent diseases, particularly breast cancer. His laboratory is currently examining the anti-breast cancer effects of tocotrienols, a rare natural form of vitamin E.
"With the support of the Louisiana Cancer Foundation, our laboratory has been able to conduct seminal research regarding the anti-cancer effects of tocotrienol, with the goal of developing tocotrienol-based therapies that can be used in the prevention and treatment of breast cancer in women," Sylvester said.
Sylvester found tocotrienols " … display potent anti-cancer effects against breast cancer cells at doses that have no adverse effects on normal cell growth or viability." 
"Subsequent studies have shown that combined treatment of tocotrienol with other traditional chemotherapies often results in a synergistic inhibition in cancer cell growth and viability," he said,
"Since this synergistic anti-cancer effect was observed using very low doses of each agent, these findings suggest that combined low dose treatment with tocotrienol and traditional chemotherapy may have significant value in the treatment of breast cancer without causing unwanted toxic effects associated with high dose chemotherapy treatment alone," Sylvester said.
In addition to LCF, Sylvester has maintained grants from the National Cancer Institute at NIH, American Cancer Society, American Institute of Cancer Research, and First Tech International Ltd., among others. Sylvester has authored 145 peer-reviewed research publications, 22 book chapters, and has presented more than 162 talks at national and international scientific conferences.
About the LCF
The Louisiana Cancer Foundation for Research and Education was formed in 1999 as a local 501C3. The mission is to promote quality-of-life for cancer patients and family members while providing Louisiana citizens with accurate and up-to-date information on prevention, detection, and cancer treatment.
At ULM, the LCF supports: an endowed scholarship for a student who is a cancer survivor or has been impacted by cancer in their family, established in 2019, the scholarship fund is $30,000; Theresa Marsala Memorial Endowed Nursing Fund, since 2009, $30,000 has been funded; and oncology classes for nursing students, since 2008, $22,450 has been funded. 
The Cancer Foundation League, the fundraising arm of LCF, has helped over 5,300 local cancer patients since 2002 with more than $2 million in financial assistance.
Annually, the LCF hosts four free cancer screenings for breast and cervical cancer, prostate cancer, skin cancer, and colon/rectal cancer. It also funds a mobile mammography unit to reach underserved areas in the region.