Published Jan. 29, 2020
"Middle East 1001: Where presidents, policies and religions meet" is 6 p.m. Tuesday, Feb. 4, 2020, at The Terrace, ULM Library 7th floor. Free and open to the public.

Faculty in the University of Louisiana Monroe Political Science program will be continuing the 1001 series that began in the fall semester.
"Middle East 1001: Where presidents, policies, and religions meet" will take place on Tuesday, February 4 at 6 p.m. in The Terrace on the 7th floor of the University Library.
This event is free and open to the public.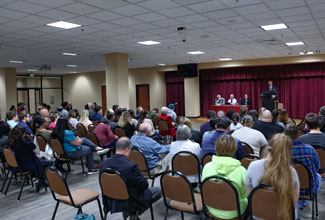 The panel will discuss recent actions taken by the U.S. in the Middle East, including a history of Iranian-U.S. relations, the effect of foreign policy on presidential approval ratings, and the importance of understanding Islam to understanding the Middle East.

Faculty panelists include Joshua Stockley, Ph.D., and Jessica Schofield, Ph.D., with Patrick Exmeyer, Ph.D., moderating the discussion.

Cardiologist and Imam of the Islamic Center of Northeast Louisiana Mahmoud Sheikh-Khalil, M.D., will also be joining the panel.