Published Feb. 3, 2020
Allison Newton, a senior music-vocal major from Monroe, was crowned the 67th Miss University of Louisiana Monroe just a few months ago, and is already preparing for the Miss Louisiana content in June. She's even received her Miss LA contestant number.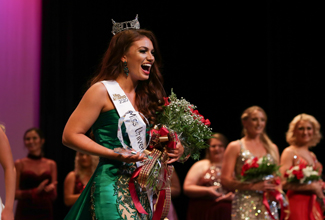 When named Miss ULM, Newton said, "I've been working towards this title for three years. It's taken three years to figure out how to do the job the best I can, why I craved it, how much it really meant to me, why I should keep trying, and of course, the pageant game required to win the job."
Newton's social impact is "The Best Test: Early Mammograms" which she describes as one of the most important things a college-aged female should be introduced to. Newton hopes to educate women about this during her reign as Miss ULM to have more early detections for 98 percent survival rates. 
Talent is second nature to Newton, as she won the preliminary talent award for her vocal performance two years in a row at the Miss ULM Pageant. She also strives to get more students involved in ULM's School of Visual and Performing Arts programs, events and activities. 
With a family of past, present and future Warhawks, Newton feels that representing and contributing for ULM is in her blood.  
"I have wanted to be Miss ULM for so long because I truly believe first in this university and representing it in the community, and secondly because I love the Miss Louisiana Organization and dreamed of standing on that stage as a representative of ULM." 
After graduating in December 2020, Newton will be moving to Paris, France where she will be performing in Disneyland Paris's longest running live show.