Published Nov. 20, 2020
University of Louisiana Monroe Professor of History Monica Bontty, Ph.D., departs from her passion for all things Egyptian to cast a speculative eye on common perceptions and misconceptions in her latest book, "Ancient Rome: Facts and Fictions" (ABC-CLIO, 2020).
Bontty joined ULM in 2005. She holds a master's (1983) and a doctorate (1997) in Near Eastern Languages and Cultures from the University of California, Los Angeles. She is an expert in ancient Egypt, the Near East, and the Mediterranean. As a doctoral candidate, Bontty studied and researched for her dissertation at the University of Gottingen in Gottingen, Germany.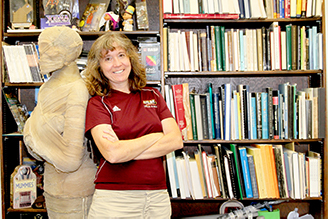 PHOTO: 
History Professor Dr. Monica Bontty in her office at the University of Louisiana Monroe. Bontty has written a new book, "Ancient Rome: Facts and Fictions."
ULM Photo Services
What led Bontty to explore mythologies which, over the last 2,000 years, have become cultural norms? 
"I have always been interested in Ancient Rome, especially Graeco-Roman Egypt," said Bontty. "When the opportunity arose, I took advantage of ABC-CLIO's offer to write the book." 
"The most rewarding thing for me was bringing these characters to life so that others might enjoy reading the book as much as I did writing it," Bontty said. 
For example, the reference to Emperor Nero playing the violin while Rome was in flames is used to describe a person preferring selfish entertainment over addressing serious matters.
Bontty puts an end to this fiction – Nero wasn't even there.
"One of the best-known myths is that of Nero fiddling while Rome burned. First of all, fires were very common in Rome. Additionally, Nero was not in Rome at the time the fire broke out. He rushed back to Rome as soon as he found out about the blaze and led the relief efforts," she said. 
"It is a little known fact that the emperor Nero was actually quite popular with the common people. The upper class hated him because, with the onset of the imperial system, they lost all of their power. Senators hated the imperial system."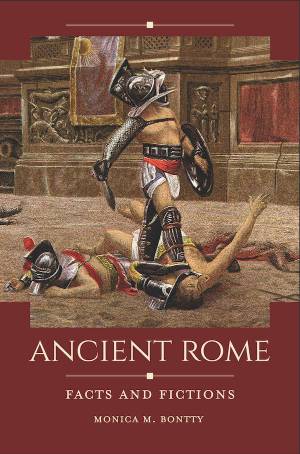 Bontty writes that the emperor Caligula was not insane but "had a really mean sense of humor."
"Don't get me wrong, he was not a nice guy by any means, but he was no better or worse than some of the other emperors. I definitely would not want to visit him if I had the opportunity to visit ancient Rome," she said.
Empress Livia's reputation as a murderous stepmother is also undeserved. 
"She was the victim of elite writers who wrote anti-imperial sources. Livia was considered the ideal Roman woman and was adored by her husband Augustus," said Bontty. "She was his trusted advisor. They were married over 50 years. She died at the ripe old age of 86."
Bontty is currently working on publishing her undergraduate professor's ancient Egyptian lessons. 
"The late Professor John Callender spoke, read, or wrote something like 35 languages and taught ancient Egyptian as a spoken language," said Bontty. 
"He had recordings to go along with the lessons that he produced. It was a really fun way to teach. I incorporate some of his methods when I teach Egyptian. I have two courses that I teach here on ancient biographical and religious texts," she said.
Bontty discusses her book in an interview at WarScholar.