Published Aug. 12, 2020

Deans for Impact has named Myra Lovett, Ed.D., of the University of Louisiana Monroe, a 2020 Impact Academy fellow.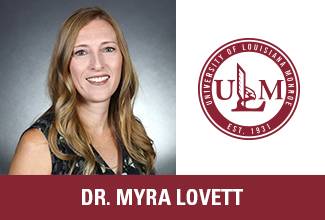 Lovett is Director of the School of Education, College of Arts, Education, and Sciences. She is one of 17 chosen for the fellowship's fifth cohort for their commitment to improving educator preparation. Each cohort is selected through an intensive nomination and application process. 
Deans for Impact connects with leaders of educator preparation programs, helping them transform their programs, sustaining these transformations over time, and influencing policy that affects their work. 
"As an educator for over 20 years, I have had the privilege of working in both K-12 and higher education environments. My own commitment to teacher excellence and the implementation of best practice for teaching aligns well with Deans for Impact," said Lovett. "Having worked with this organization on higher education curriculum in the past, I know well their excellence and dedication to teacher preparation, so I was honored to be selected to participate in Impact Academy as a member of this cohort."
Lovett holds a B.S. in Elementary Education from LSU, a Master of Education from the University of Mary Hardin Baylor, and an Ed.D. in Curriculum and Instruction from ULM. She joined ULM faculty as a graduate assistant in 2012. She became Assistant Professor/Coordinator of Field Experiences and Teacher Candidacy in 2014, and Associate Director of the School of Education in 2016. Lovett holds memberships in international, national, and state education associations.
"The opportunity to be an Impact fellow will allow for collaboration and problem solving with other chairs, deans, and directors nationwide, the continued development of leadership skills, and the ability to build relationships across myriad institutions that will positively affect our programs in ULM's School of Education. During these tumultuous times, it is so important to be focused and connected so that positive growth can be realized," she said.
"Although I have lived and taught across the Southeast and Southwest U.S., coming to ULM was a welcomed return to family and friends, as I consider Northeast Louisiana to be my home. I am so thankful for the support of my dean, Dr. John Pratte, my husband, Matt, and my son, Silas, who have all supported my educational and professional goals," Lovett said.
Under Lovett's leadership, in 2020, the National Council on Teacher Quality Teacher Prep Review gave ULM an A for programs preparing elementary teacher candidates on how to teach reading. The ULM School of Education earned accreditation for its educator preparation programs from the Council for the Accreditation of Educator Programs in 2018.