Published July 21, 2020
Story by Hope Young, Photos by Sid Gaulee
Five employees of the University of Louisiana Monroe Physical Plant have a combined 197 years of keeping the engines running, the grounds meticulously trimmed, and the lights on. They are indeed, essential workers.
These dedicated and friendly men humbly shared a bit about their work at ULM, and their lives off-campus.
Joe Day, 36 years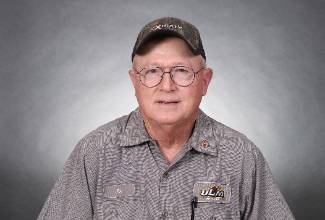 "I'll be 72 in October, if I make it," said Joe Day, a master mechanic. "I'm the oldest employee in the Physical Plant."
Day started in the grounds department more than 36 years ago, after 10-plus years in the home and garden department at Monroe's beloved-but-now-gone Howard Griffin, service to his country – and earning a business degree from ULM.
Day proudly says he has a "knack for machines. I guess it's in my blood. My grandfather was a blacksmith; Dad was a mechanic and chief petty officer in World War II."
His son is also a mechanic.
Day enrolled at ULM, then-Northeast Louisiana University, at 17. After two years, "I told my dad, I'm sick of going to school. I'm going to join the Navy and get my military obligation behind me and take it from there."
"I came back here, went right back to school. I graduated with my little brother. Mom and Dad got to see two of their five kids graduate in the same night, that was a special occasion in my heart," he said.
Joe Day started in the grounds department more than 36 years ago, after 10-plus years in the home and garden department at Monroe's beloved-but-now-gone Howard Griffin, service to his country – and earning a business degree from ULM.
While students, Day and his younger brother David, worked at Howard Griffin. After graduation, David left, and Day stayed.
When a salesman brought Day to demonstrate new equipment to the ULM Athletics Department, he looked around and thought, "I wonder who takes care of all this equipment?"
At the personnel office, he learned they were looking for a mechanic. Day applied, and the rest is history.
Day is the first mechanic hired in the grounds department, and he's the only one.
"Hey, I can do it by myself. I've been doing it all these years. I'm used to it," he said. "These guys know they can't do their job unless I do my job. They come straight to me with a problem. I fix it or give them another piece of equipment and send them right back out. It's efficiency."
What's the most unusual thing Day has repaired at ULM?
"The ski ramp can be set at different inclines, hydraulically. They asked me if I could go out there and work on it. I said I'd take a look at It, but how was I going to get out there? Swim? The ski team took me out there in a boat and I got up in that thing and worked on it."
Johnny Ellis, 43 years
After 43 years of working at one place, more than 40 in the same department, it is understandable that whatever made those days, weeks, and months memorable would slip away like last night's dreams.
Not so for Johnny Ellis, a master mechanic in Auto Services. His eyes light up when he talks about some of the things he's done and seen during his career at ULM.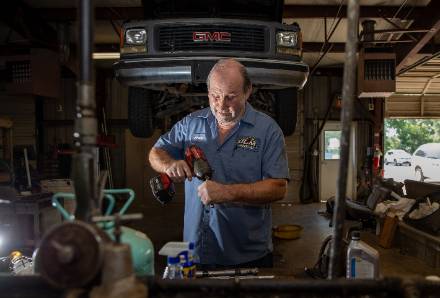 In 1976 he started in the plumbing shop and was there about a year-and-a-half. He moved to Auto Services, where Ellis has repaired, cussed at, and junked so many vehicles he can't name half of them.
But there's one he'll never forget – the Silver Eagle buses. When he wasn't keeping them road-ready, he was at the wheel.
"I started driving buses in 1982 until 1995. Our buses were different then; they were Silver Eagles. You had to shift them. Driving them was something else," said Ellis.
He made some football trips, but the women's basketball players and coaches were his main passengers.
"I was driving whenever E.J. Lee and Lisa Ingram were on the team. Linda Harper was the coach. It was great. I really enjoyed it," he said.
When he retires, Ellis isn't taking to the road. He'd like to fly to the home of the mop-top Fab Four whose music seared into the brain of a teenage boy and still plays in the memory of a 68-year-old great-grandfather.
"I'd like to go to England, home of The Beatles," he said with a grin. "I'd love it."
Arthur Jenkins, 45 years
Memories fade after 45 years, so Arthur Jenkins doesn't remember the exact date he started at ULM, sometime in early February of 1977, as best as he can recall. He began on the night shift as a custodian.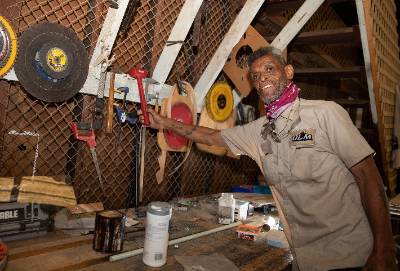 A sports fan, Jenkins loved the days of Calvin Natt, a ULM basketball great in the '70s who went on to 11 seasons in the NBA, and E.J. Lee, the women's basketball phenom who led the team to a berth in the Final Four in 1985. Lee would return to ULM as an assistant coach.
"When I came, the basketball and football teams played championships games, and you could hear them on the radio. It was real nice," recalled Jenkins.
While he wasn't in the stands for the games, he often saw the action.
"I used to work them, cleaning up after the games, but I would watch whenever I could," Jenkins said.
He had a seat in Malone Stadium on Dec. 19, 1987, when the then-NLU Indians faced Marshall in a high-stakes match for the National Championship. The crowd exploded with the 43-42 win.
"I was there when they won that championship," he said. "It was great."
Jenkins said he could have retired 10 years ago, but he wants to be here.
"I like what I'm doing, I like working here," said Jenkins. "I believe everything has been good. I've had ups and downs, but I thank God I had a good job."
When he does retire, there is a place he'd like to revisit.
"Salt Lake City, Utah," said the 65-year-old Monroe native. "I went to Job Corps there and I stayed two years."
Jenkins learned cement finishing through Job Corps … and learned something else, too.
"The atmosphere is different up there than it is here. When it snowed up there, I used to wear short pants. When it snows down here, it's a whole lot different," he said.
Harold McClinton, 35 years
In Louisiana's subtropical climate, the grass seems to grow inches overnight, especially after a good rain.
Harold McClinton, 63, a groundskeeper at ULM for 35 years, wouldn't have it any other way. If he's here, he's mowing.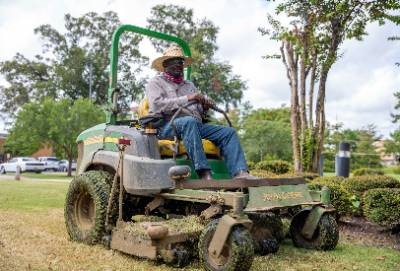 Years ago, starting as a general worker, the boss noticed McClinton's knack for cutting grass.
"During the summertime, I would be on the mower tractor," said McClinton. "After that, I would go back to being a laborer."
With few people who could maneuver a mower between buildings, around students and the sloping banks of Bayou DeSiard, McClinton was soon moved into the job he has today.
McClinton takes care of the grass around campus housing, the stadium, and athletic facilities.
"I'm an outdoors person. I like plants. I like making the grass look good and shaping the hedges," he said.
There's more to neat hedges than whacking away with rusty clippers.
"You just don't go and start doing it. There's a technique to it. You have got to have sharp trimmers to make it look good," McClinton said.
He operates heavy equipment for bigger jobs and recalls the day his front-end loader was front-ended. He was removing debris and a slow-moving car was headed straight for him.
"When I turned around, I saw him, Coach Mike Collins, coming. He was on the phone and he didn't see me, and he ran into my front-end loader," he said.
No one was hurt and the front-end loader was unscathed. McClinton couldn't remember how the coach's vehicle fared. After the shock, they had a good laugh about the run-in in a big, empty parking lot.
McClinton doesn't have plans to retire, but there's one place he would like to visit.
"Jerusalem, Israel! That's where I would want to go because that is where Jesus walked and he lived his ministry in Israel," McClinton said. "I would like to go and walk where he walked and visit some of the places he visited. That would just make my day."
Ralph Payne, 38 years
Thirty-eight years ago, Ralph Payne arrived for his first day at the ULM Auto Services – he's been there ever since, still keeping the ULM fleet of cars, vans, trucks, and buses ready to roll.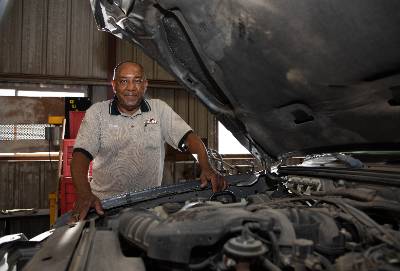 "I started in the shop here as a mobile equipment mechanic," said Payne. "I've been here the whole time."
Payne drove the buses for ULM Athletics from time to time, which he enjoyed.
Once driving one of the men's teams, they stopped at a restaurant for a bite to eat.
"One of the trainers said I ate more than the players," he recalled with a grin.
Payne said he likes the half-day off on Fridays and the free weekends. It gives him time to take care of his home and property.
"Around the house, I'm kind of a handyman. I try to do all of my own repairs. I've even done a little bit of air conditioning work, on my own, I don't do anyone else's," he said.
It seems there's always something that needs fixing or mending between his house and automobiles. Then, there's the yard – about 6 acres to mow.
"It's not enough time in the weekend to really do what you need to do. If you don't get up early enough you're going to miss it," he said.
Payne, 63, grew up in Rayville and prefers country living to the confines of city limits.
"I live on the outskirts of Monroe in Bosco," he said. "Basically, when you go in that direction, you're going to see cornfields, cotton, soybeans or something like that."
To the dismay of his family who lives elsewhere, this homebody admits, "I'm not much of a traveler. I don't really like it. On Christmas holidays, I just stay home."