Published June 24, 2020
For more information, visit 
ulm.edu/presidentsacademy
. 
The University of Louisiana Monroe President's Academy is a distinguished program for a select group of only 65 highly motivated high school students.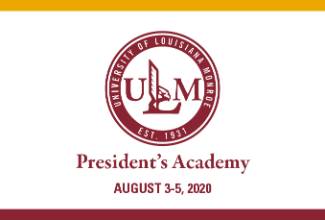 Due to the COVID-19 pandemic, The Academy is relaunching with a new format. This year, the President's Academy is Aug. 3-5 and will be a non-residential program. Because of these changes, the cost of the Academy is decreased to $200 per student. 
The President's Academy is a three-day college preparatory program held on the ULM campus designed to look at the science and law of pandemics.
The Academy simulates the outbreak of a pandemic, and divides participants into teams of specialists that attempt to identify the problem, to develop a drug that can treat the disease, to create technology that can assist your team and control the flow of information, and to try a case that protects the legal rights of individuals.
Participants work in science laboratories, computer/virtual reality laboratories, and courtrooms with university faculty. This camp prepares students for a future major, offers a glimpse into future careers, and equips scholars with the soft skills to flourish in a competitive job market and global economy.
High school sophomores, juniors, and seniors with a minimum ACT score of 24 or a minimum 3.5 GPA are invited to apply at ulm.edu/presidentsacademy.
Applications are accepted now until July 13. Applicants admitted into the Academy will be notified by July 14. 
For more information, visit ulm.edu/presidentsacademy. A gallery of last year's President Academy adventures can be seen here. 
Follow ULM President's Academy on Facebook/ULM President's Academyand Instagram ulm_pa.