Published May 28, 2020
University of Louisiana Monroe English major Taylor Barclay, of Bossier City, has been awarded a $1,500 Summer Internship Stipend from Sigma Tau Delta, the International English Honors Society.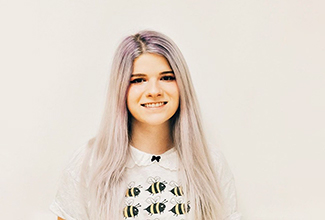 The stipend provides funding to society members accepting summer internships. The awards are competitive, and only a limited number are presented.
Barclay will be working with Jana M. Giles, Ph.D., of the English Program in the School of Humanities, College of Arts, Education, and Sciences, as editorial intern for the academic research journal Conradiana. Giles has served as managing editor of the journal since 2015. 
Conradiana is dedicated to the study of the British and Polish modernist novelist Joseph Conrad.
"I'm very excited for the great opportunity to work with Dr. Giles on the Conradiana internship this summer. It's a great opportunity to continue the scholarly work I'm passionate about and learn more about career choices that tie into my English degree. I'm very grateful to ULM for providing internship opportunities like this one, which helps humanities students expand their knowledge, experience, and resumes. Joining Sigma Tau Delta through ULM also gave me the chance to apply for the stipend for this internship," stated Barclay.
This is the third time that ULM English majors have won the summer internship stipend from Sigma Tau Delta. In 2016, Lauren Haigler and Shelby Russell worked with Giles on Conradiana.
"I am delighted to be able to work with such a capable and talented young person as Taylor this summer," said Giles. "Taylor has worked with me on the journal for the past two semesters while enrolled in the Internship in Technical and Professional Communications (ENGL 4080), so she is already well prepared. Extending her experience this summer will really polish her skills for future jobs involving professional editing. Fortunately, editing can easily be done remotely, given the need for caution during the coronavirus pandemic."
The internship must involve working for an organization while being directed by a supervisor/mentor within that organization. The internship's duties must be consistent with the applicant's level of education, area of study, and career goals. Financial need is taken into consideration in addition to internship length.
"I hope this encourages ULM English majors to expand their skill set to professional editing, and to apply for nationally competitive opportunities. They can reach for the stars," said Giles.