Published Dec. 2, 2020
The University of Louisiana Monroe's TRIO Programs Student Support Services honored first-generation students with a brunch on Nov. 6. The accomplishments of TRIO scholars and the success and presence of first-generation students at ULM were recognized to commemorate National First Generation Celebration Day on Nov. 8.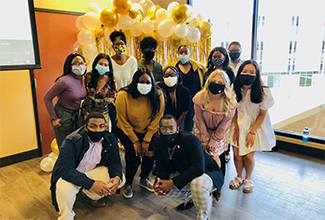 PHOTO:
Enjoying the University of Louisiana Monroe TRIO Programs Student Support Services brunch honoring first-generation students were, from left, back row: Ambernae Williams, Terrishan Howard, Miya Reed, Destinique Fulgence, Tia Smith; middle row: Takira Mayshack, Jasmine Thenekhamsyharath, Meajha Daniel, Yo'Lecia Addison, Brailyn Russo, Melaney Zheng; and bottom row: John Mckeel and Jaden Saunders.
Courtesy photo
Among students honored were Yo'Lecia Addison, Meajha Daniel, Alicia Degen, Destinique Fulgence, Terrishan Howard, John McKeel, Takira Mayshack, Miya Reed, Brailyn Russo, Jaden Saunders, Tia Smith, Jasmine Thenekhamsyharath, Ambernae Williams, and Melaney Zheng. 
According to Jyssica Hattaway, TRIO-SSS life coach and retention specialist, the program is "a supportive community working together toward academic excellence. Our enthusiastic staff provides various services to support each participant's personal and academic achievement and increase course performance with the goal of obtaining a bachelor's degree."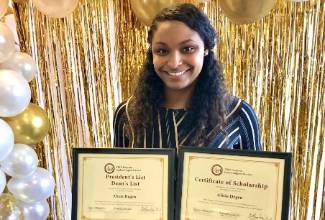 PHOTO: The ULM Foundation selected Alicia Degen as a 2020-2021 James Cofer First Generation Endowed Undergraduate Scholarship recipient. She was also honored for academic achievement.
Courtesy photo
TRIO-SSS participants who received a 2020-21 First Generation Scholarship through the ULM Foundation were recognized with a Certificate of Scholarship. Participants on the president's and/or dean's list during the previous academic year received a Certificate of Scholastic Achievement. TRIO-SSS peer mentors were recognized for outstanding service as role models and mentors to first-year, first-generation students.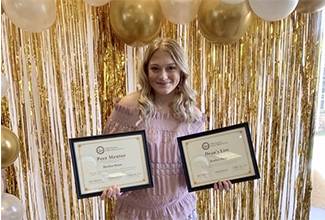 PHOTO:

 

Brailyn Russo was recognized for outstanding scholastic achievement and for her service as a TRIO-SSS peer mentor. 
Courtesy photo
About one-third of the nation's undergraduate students are the first of their families to attend college. In fall 2019, slightly more than 50 percent of ULM's undergraduate students met TRIO-SSS services' eligibility requirements.
TRIO SSS is one of the eight TRIO Programs fully funded through the U.S. Department of Education to assist first-generation, income-eligible students to remain in good academic standing and graduate from college. To learn more about the TRIO-SSS program or to apply, visit www.ulm.edu/trio.