Published May 23, 2020
University of Louisiana Monroe Assistant Professor of English Will Rogers, Ph.D., has received a prestigious ATLAS grant – Awards to Louisiana Artists and Scholars – from the Louisiana Board of Regents.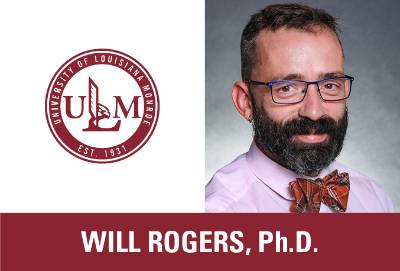 The grant will support Rogers' completion of his study, "Haunted Chaucer: Trauma and Narrative in the 'Canterbury Tales.'" 
"At first glance, Geoffrey Chaucer's 'Canterbury Tales,' written in the last quarter of the 14th century, is a foreign narrative, unconnected to the 21st-century reader. But my research centers on how Chaucer's collection of tales is useful to our present moment, as the text gives voice to the then-contemporary upheavals and developments of what has been called the "calamitous fourteenth century," a global pandemic, a debate about the role of women, and various political strife," Rogers said,
"Central, however, to my monograph 'Haunted Chaucer' is the way in which the text papers overs these events and developments, and how, though repressed, they return in unexpected ways. This repression and return is aptly described by modern understandings of trauma and memory," stated Rogers. 
Rogers' grant was fully funded at $36,750. The Board of Regents ranks each grant application, and Rogers' application was the highest-ranked out of all the other institutions in the University of Louisiana System. 
This project has previously been funded by the National Endowment of the Humanities and is currently supported through the Tommy and Mary Barham Endowed Professorship. 
Rogers will have a reduced course load in order to complete this project. Rogers said his students had an integral role in helping him complete his proposal. 
"I am grateful for the support from Board of Regents and from ULM — I will, however, miss the dynamic in the classroom that allowed me to complete this proposal: the students from English 4036: Chaucer in Spring 2018 and Spring 2020 have been essential as readers and critics of my work. In fact, an article version of chapter two of 'Haunted Chaucer' is forthcoming in Fall 2020 in The Chaucer Review, a piece that only happened because of my students' questions and critique," stated Rogers.