Published Sept. 8, 2021
The University of Louisiana Monroe School of Allied Health in the College of Health Sciences announces Jessica Lasiter, MHIM, as the recipient of the Spring 2021 Outstanding Faculty Award – Recognition of Excellence.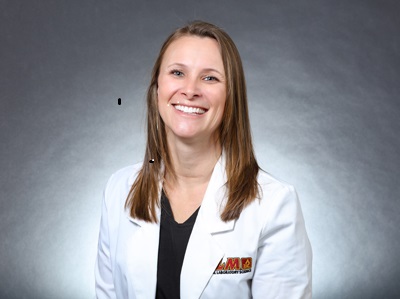 This annual award recognizes the successes and outstanding work of a full-time faculty member. 
Lasiter, Associate Professor and Director of Medical Laboratory Science, balances a vigorous career of professional service, teaching, and rearing four active children while serving ULM and her community.  
The Outstanding Faculty Award — Recognition of Excellence honoree demonstrates exceptional:
Teaching effectiveness, solid command of the subject, innovative classroom methods, guidance in independent student work, ability to engage students in the learning process

Professional activities and development, including involvement in research, publications, and participation in professional organizations

Service as a mentor to faculty and/or students, including presence in the department providing a model for students and contributions to the SOAH/CHS

Service to the community, including the SOAH/CHS which has improved the quality of the institution and the community outside the campus
Her peers describe Lasiter as an outstanding person, colleague, mentor, and faculty member. She began her tenure at ULM in 2010 after working at Rapides Regional Medical Center as a compliance coordinator. Lasiter is heavily involved in professional service in her discipline, serving in many leadership roles through state and national professional organizations. 
She has received numerous awards through Louisiana-affiliated organizations for Educator of the Year, Member of the Year, Presidential Service Award, and Outstanding Service. She has also presented at several state and national meetings associated with the MLS discipline. 
Lasiter's students describe her as an excellent mentor who pushes them to succeed. The MLS students note that she is honest and transparent and, coupled with a strong compassion for helping others, has a true desire to make the MLS program one of the best.
Donald Simpson, Ph.D., Dean of the CHS, stated, "Patient-and-family-centered care demands a higher level of diagnostic and laboratory testing that is often lacking among educational programs. Ms. Lasiter provides exposure to students in our Medical Laboratory Science program not readily available elsewhere. She provides the comprehensive didactic and hands-on clinical practice that assures success for our graduates in the field of pathology and laboratory medicine."
Nominated for the Spring 2021 award were Andy Allen, Ed.D., Associate Professor and Clinical Coordinator of Radiology Technology; Carolyn Murphy, OTD, Professor of Occupational Therapy and Academic Field Work Coordinator; and Jennifer Whited, Ph.D., Assistant Professor of Speech Language Pathology.
In 2019, the SOAH Awards Committee was formed whereby the members designed and implemented several new award categories for the school, one being the Outstanding Faculty Award. 
A special acknowledgment to the SOAH committee members for their detailed work on this project: Lacy Davis, Radiologic Technology, Dusty Mardis, Kinesiology, Jason Smith, Radiologic Technology, and Kim Whorton, Dental Hygiene. 
The chair of the SOAH Awards Committee, Jessica Dolecheck, Ph.D., said, "The SOAH faculty do such exceptional work for their departments, but especially for their students. This award is a way of celebrating their outstanding efforts."