Published Oct. 20, 2021
The University of Louisiana Monroe Alumni Association will host the annual Alumni Awards Brunch on Saturday, Oct. 23, as part of ULM's Homecoming festivities. The Alumni Awards Brunch will be held from 10 a.m.-noon at Bayou Pointe Event Center. Tickets can be purchased online at alumni.ulm.edu/events or by calling 318-342-5420. 
This year, the brunch will also incorporate the Alumni Association Annual Meeting. At this event, recipients of the prestigious Rising Young Alumni and Golden Arrow awards are recognized for their commitment, advocacy, and dedication to the Alumni Association and the university. Alumni and community members nominate recipients, and a committee reviews submissions and announces award winners.
Rising Young Alumni Award - DeAndre Alexander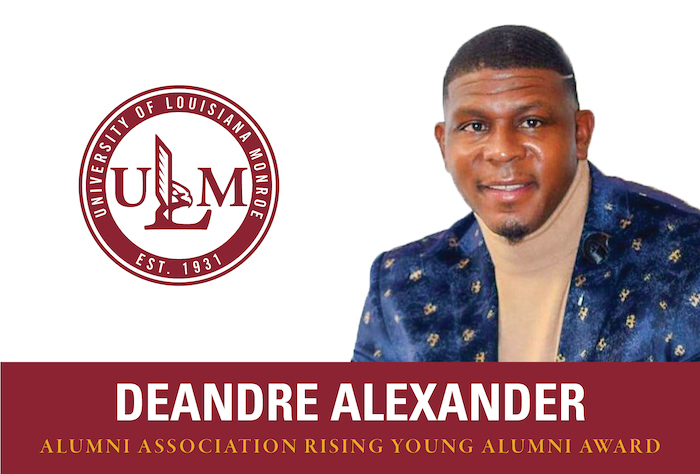 The Rising Young Alumni Award was established in 2013 and is given to an alumnus involved in community organizations and philanthropy, a general supporter of their community, and actively seeks ways to positively impact ULM programs and influence others on behalf of ULM. This year, the Alumni Association will recognize DeAndre Alexander. 
Alexander received his Bachelor of Science in General Studies from ULM in 2008 and holds an M.S. in Sports Administration plus 30 from Grambling State University. While attending ULM, he was a standout basketball player under legendary coach Mike Vining. 
Alexander carried this experience with him to Arcadia High School, where he is currently employed and has previously coached state champion sports teams. Alexander has served as an elected public servant in various capacities, including a city councilman, one of the youngest in Louisiana, and Bienville Parish Constable. Alexander currently serves on the ULM Board of Directors, is a Bienville Parish Chamber of Commerce Top 40 and under 40 Young Professionals nominee, and is deeply involved in his hometown of Arcadia. 
Alexander volunteers in programs such as Men Standing Up against Domestic Violence and Tea Time for The Cure Breast Cancer. He is the founder of Calling All Young Men, which stands up to gun violence, and the Adopt-A-Son Mentoring program for ages 7-16 in Arcadia and surrounding areas. Alexander was nominated four times during the call for nominations for this award.
Golden Arrow Award - Tag Rome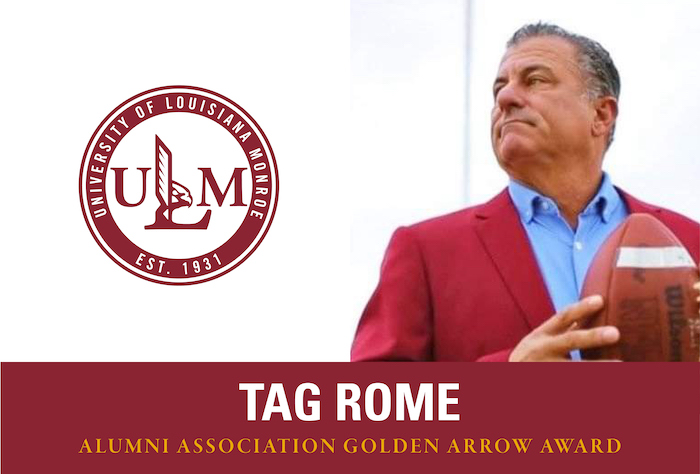 Presented since 1981, the Golden Arrow Award is the highest honor from the ULM Alumni Association. This award goes to someone who has distinguished themselves through personal and professional achievement while serving the Alumni Association, going above and beyond the call of duty over a period of years. This year's winner is Tag Rome. 
Anthony "Tag" Rome earned his bachelor's and master's degrees from ULM in 1984 and 1987. He was a member of the ULM football team from 1980-83, receiving the All-Conference, All Louisiana, All American (twice), and all Conference Academic awards. He played professional football for the NFL and CFL. Rome served as assistant football coach at ULM from 1989-96. He was inducted into the ULM Sports Hall of Fame in 1996. 
Rome is a true advocate of ULM, having memberships as an Alumni Association Lifetime member, L Club Lifetime member, George T. Walker Heritage Society member, Kitty DeGree Bell Tower Society member – Ouachita Society, and constantly supporting ULM in the Shreveport area where he currently resides. 
With this success, Rome is just as dedicated in his career. As a State Farm Insurance agent in the Shreveport/Bossier area, he has developed three different locations, is in the top one percentile of State Farm agents in America, and was recognized by State Farm as a Million Dollar Round Table recipient. 
The Alumni Association is honored to have these two advocates among their alumni base.