Published Nov. 11, 2021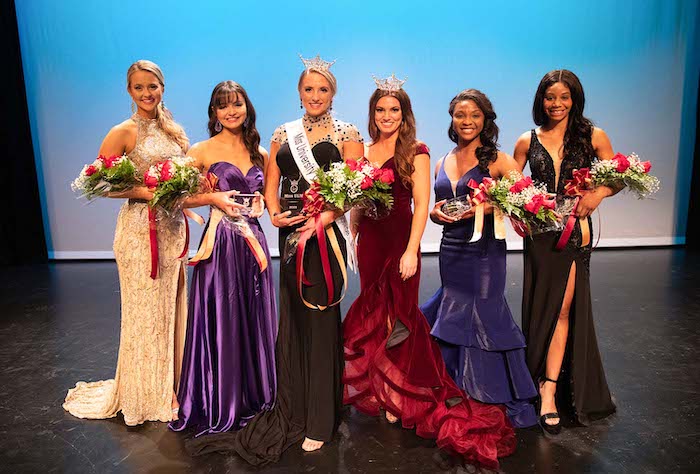 Asja Jordan is the new Miss University of Louisiana Monroe 2022. Pictured, from left, are third runner-up Alyssa Garner, first runner-up and Preliminary Talent Award winner Leslie Hobgood, Jordan, Miss ULM 2021 Allison Newton, second runner-up Kennedy Boston-Woods, and fourth runner-up Victoria Sterling.                                                                                                            Lanaya Bolden/ULM photo services
---
Miss ULM 2022 Asja Jordan and Mr. ULM 2022 Jared Anders will serve as ULM ambassadors for the upcoming year.
By Ashlyn Dupree                                                                                                                    ULM Office of Marketing and Communications
Asja Jordan, a public administration graduate student from Monroe, was crowned the 68th Miss University of Louisiana Monroe, Friday, Nov. 5, in Brown Auditorium.
Jordan also received the Preliminary Red Carpet Award.
Jordan's platform is "Potential 2 Kinetic," a business Jordan created. Potential 2 Kinetic's goal is to be a catalyst for positive change and transformation within individuals and communities through yoga services, fitness training, community projects, and synergistic partnerships.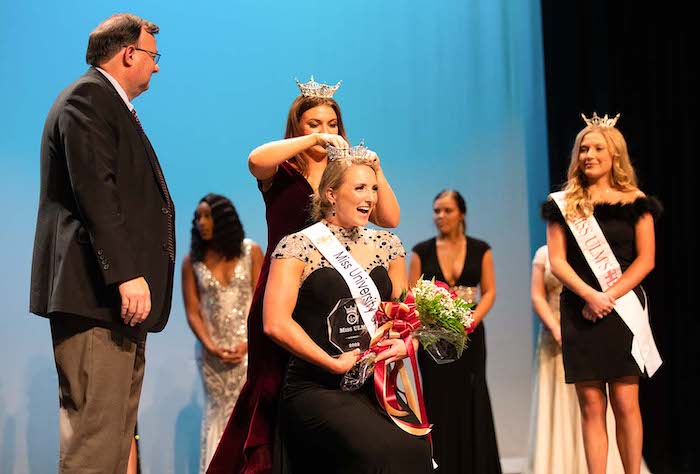 Miss University of Louisiana Monroe 2022 Asja Jordan is crowned by Miss ULM 2021 Allison Newton, as President Ron Berry, left, and Miss ULM's Outstanding Teen 2020-21 Katie Redmond, right, look on. The competition was on Nov. 5 at Brown Auditorium.
Lanaya Bolden / ULM photo services
---
"As Miss ULM, I dedicate and commit myself to the job of being a strong representative of the university, but also an active member and servant for the community. Wearing a crown and sash, it can be very glamorous and fine, but it's not the most important to me," Jordan said. 
"The most important thing to me is the job behind it. Because at the end of the day, you take the crown off, and you're still a servant, a leader. That's the quality that I wish to embody during this year."
As Miss ULM, Jordan receives a $2,000 scholarship for two semesters awarded by the Campus Activities Board and a $4,500 cash prize awarded by the Student Government Association. Jordan also gets a one-bedroom apartment on campus for her reigning year and a $300 bookstore award. Jordan will compete for the title of Miss Louisiana in June 2022 at the Monroe Civic Center.
Leslie Hobgood from Shreveport was awarded the first runner-up and Preliminary Talent Award. The second runner-up was Kennedy Boston-Woods, a Monroe native, receiving a $2,000 tuition scholarship from CAB. The third runner-up was Alyssa Garner of Frierson, winning a $1,000 tuition scholarship by CAB. Victoria Sterling, an Abbeville native, was the fourth runner-up and received CAB's $750 tuition scholarship.
Ty'Leshia Brown of Winnsboro won the Social Media contest as well as Advertisement Sales award; Kiauna Rollins of Baton Rouge won the People's Choice Award; MacKenzie Washington of Minden won Miss Congeniality, Spirit of Miss ULM, and the Non-Finalist Talent Award; Sarah Riley Broadway of West Monroe won the Non-Finalist Academic Award, and Katelyn Yopp of Natchitoches won the Non-Finalist Interview Award.
"The Miss ULM competition is the largest scholarship pageant in the state for the last 10-plus years as part of the Miss Louisiana and Miss America Organizations," said Meagan Lee, the Miss ULM Director. 
Jared Anders crowned Mr. ULM 2022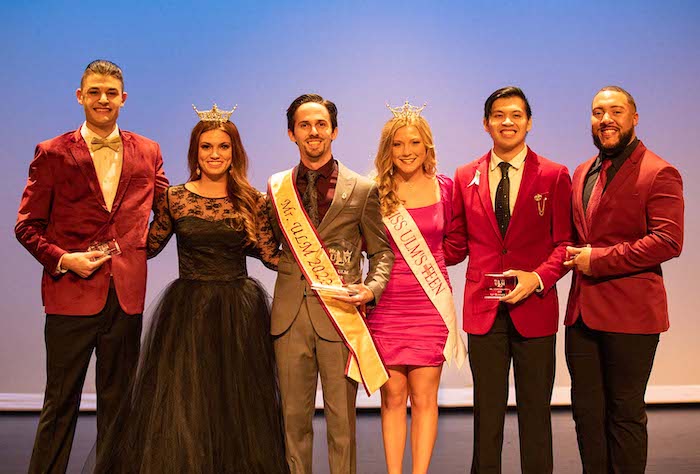 Jared Anders, third from left, was named Mr. ULM 2022 on Nov. 5 at Brown Auditorium. Pictured are, from left, People's Choice Award and Non-Finalist Interview Award winner Tristan Sonnier, Miss ULM 2021 Allison Newton, Anders, Miss ULM's Outstanding Teen 2020-21 Katie Redmond, first runner-up Phillip Vu, and Spirit of Mr. ULM winner Hollis Walker. Not pictured is Mr. ULM 2021 Ryan Petersen.
Lanaya Bolden / ULM photo services
---
Along with Miss ULM, Jared Anders, a P3 College of Pharmacy doctoral candidate from Central, was crowned Mr. ULM. Anders received a $1,000 scholarship from the Miss ULM Foundation and Freeman Stamper, ULM alumnus, and will serve ULM as an official host alongside Jordan. Anders also won the Social Media contest.
Anders' social impact is "Affordable Medication for All." According to Anders, Ouachita Parish and its surrounding parishes are some of the 54 parishes in Louisiana considered medically underserved. 
"Charitable clinics such as Monroe's St. Vincent de Paul Community Pharmacy help to provide medication to the economically disadvantaged and medically underserved, but they need our help," Anders said.
Anders said last year, the ULM's Pharmacy Student Council raised $8,675 for the pharmacy, equating to more than $125,000 in life-saving retail medications.
"The outlet I've been given as Mr. ULM provides an opportunity to boost these types of fundraisers to a university-wide level and further support those in need," Anders said. 
Philip Vu from Shreveport was the first runner-up, receiving a $200 cash award sponsored by Stamper. Hollis Walker, a Lake Charles native, won the Spirit of Mr. ULM Award. Tristan Sonnier of Bunkie was awarded the People's Choice Award and the Non-Finalist Interview Award.