Published Sept. 7, 2019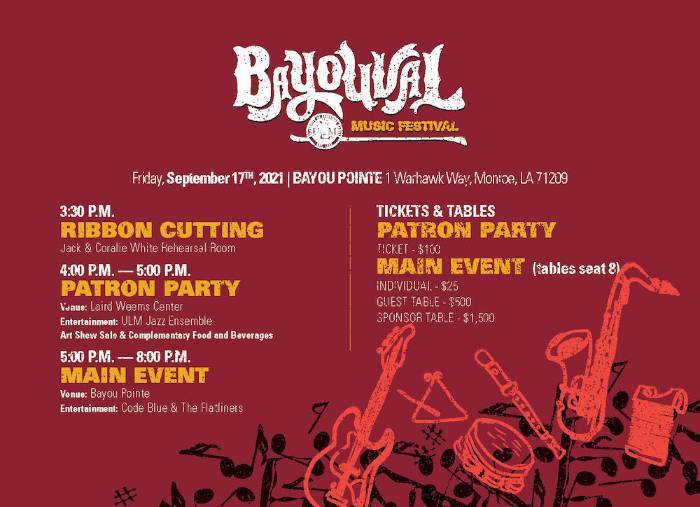 Mark your calendars for the first Bayouval (Bayou + Festival) at ULM
Bayouval Music Festival 2021 debuts Friday, Sept. 17 at the University of Louisiana Monroe.
The fusion of "bayou" and "festival" hints at the event's musical menu – featuring the local flavor of Code Blue and the Flatliners with appearances by tantalizing surprise guest artists.
Want to go?
WHAT: ULM Bayouval Music Festival 2021
WHEN: 5-8. p.m., Friday, Sept. 17
WHERE: Bayou Pointe Event Center
COST: $10 for ULM students with ID, $25 general admission, $100 patron party
TICKETS: ULM Alumni Association
Set on the banks of Bayou DeSiard at ULM's Bayou Pointe Event Center, Bayouval's main event is 5-8 p.m.
Bayouval is sponsored by the ULM Foundation to support scholarships in the School of Visual and Performing Arts (VAPA).
T-shirts, festival posters, and commemorative CDs will be available for purchase, along with food and beverages from local vendors.
Bayouval begins at 3:30 p.m. with a ribbon-cutting naming the newly renovated band room, the Jack & Coralie White Rehearsal Room, in the Sound of Today band building at University Avenue and Mitchell Street.
Jack White was ULM Director of Bands Emeritus. He died at age 84 in August 2020. Known as the person who named ULM's Sound of Today Marching Band, White joined the university in 1970. He retired after 21 years of sharing his expertise in music with thousands of students.
A Patron Party pre-event reception will be from 4-5 p.m. at Laird Weems Center. The ULM Jazz Ensemble will provide entertainment at the event, which features food, beverages, and an art show and sale. Tickets for the Patron Party are $100 and include admission to Bayouval.
Tickets are available on the ULM Alumni Association website (alumni.ulm.edu). ULM student tickets are $10 each, and a ULM ID is required at the door; general admission is $25 and the patron party is $100.
Reserved tables for eight are available at two levels: Guest Tables are $500 and include event souvenirs; Sponsor Tables are $1,500 and include a ULM cooler stocked with beverages and hors d'oeuvres, plus sponsor name included in souvenirs and media. For more information on sponsor opportunities, contact Medria Buford, 318-342-5421.
VAPA scholarships benefitting from Bayouval
Florence Ziegler Allbritton Piano Award: Allbritton joined then-Ouachita Parish Junior College in 1933 and taught piano for 40 years. She retired in 1973 and died in 1999 at age 89. The scholarship was established in honor of her former students. Recipients must be a piano major in the School of Visual and Performing Arts. 

Code Blue and the Flatliners Scholarship: Established by Bishop Johnston and supported by friends and family of this local band of physicians, the scholarship is for full- or part-time students pursuing a degree in music. Past recipients include: Yoddit Esayas, 2015; Noah White, 2016-17; Kody Jernigan, 2018-19; Solomon Abang, 2019-22.

Roger Vernon Foss Memorial Music Scholarship: Established in memory of Foss by Ecoutez Press, Ltd., colleagues and friends for full-time students in the School of Visual and Performing Arts. Foss was the husband of the late Barbara Ann Foss, a nursing instructor and later director of the School of Nursing. Past recipients include: Sunil Dangol, 2018-19; Nishant Shresta 20218-20; and Elijah Thomas, 2020-22.

Clara Frieberg Memorial Fund: After fleeing Germany with her mother in 1939, Frieberg came to Monroe to live with her sister, Helene Marx. Born and reared in Germany, Friedberg studied piano under European masters. She shared her musical knowledge and skills as a private piano teacher for many years. Her sister established the fund to assist students studying piano in the School of Visual and Performing Arts. Nathaniel Medlin received a scholarship from the fund in 2014-15.

Franky Russell Endowed Memorial Jazz Ensemble Scholarship: Mary Freddie Roberts Russell established the scholarship in 1997 in memory of her son. The scholarship requires students to be enrolled in Jazz Ensemble and show talent in jazz improvisation. Past recipients include: Joshua Love and Stephen Taylor, 2014-15; Siripong Saetieo, 2015; Mason Howard, 2017; Delton Dickson and Kody Jernigan, 2018-19; Noah White, 2019; Solomon Abang, 2020-22; and Michael Rivera, 2021-22.
#Bayouval