Published July 12, 2021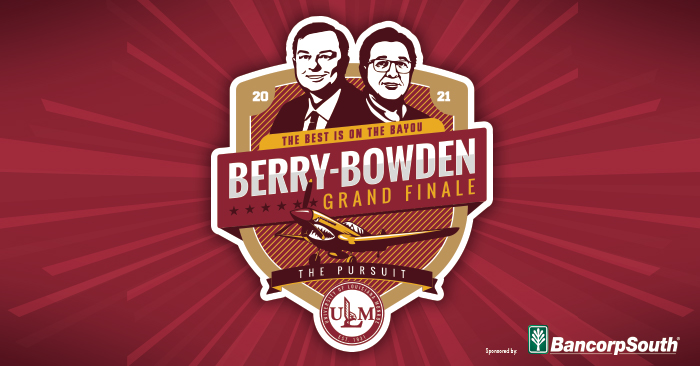 Purchase tickets online for Berry-Bowden Grand Finale & The Pursuit
By ULM Athletics
Plans have been finalized for the can't miss event of the summer in Northeast Louisiana. The Berry-Bowden Grand Finale, combined with The Pursuit, is scheduled for Tuesday, Aug. 10 from 5:30 p.m.-8 p.m. in Fant-Ewing Coliseum.
WHAT: Berry-Bowden Grand Finale & The Pursuit
WHEN: 5:30-8 p.m., Tuesday, Aug. 10
WHERE: ULM Fant-Ewing Coliseum
TICKETS:  ULM Alumni Association, Table of 8 – $800, VIP – $125, General Admission – $75, ULM faculty/staff – $50
Earlier this summer, the Berry-Bowden Roadshow, featuring first-year University of Louisiana Monroe President Dr. Ron Berry and first-year head football coach Terry Bowden, made tour stops in Dallas, Shreveport, Baton Rouge and New Orleans.
The Pursuit, sponsored by BancorpSouth, is the university's premier kickoff event for the upcoming 2021 football season.
Program highlights include comments from Berry, Athletics Director Scott McDonald and Bowden.
"The primary purpose of The Roadshow was to reconnect with our alumni after a year a separation due to the COVID-19 pandemic and share our vision for the future," Dr. Berry said. "It's only fitting to hold the Grand Finale of the tour here on campus and combine it with The Pursuit. It promises to be a special night.
---
Kickoff times announced for ULM season and home openers
---
"Under Coach Bowden's leadership, the interest in our football program has skyrocketed, and it will be the grass-roots support that helps create a true, home-field advantage in Malone Stadium this fall."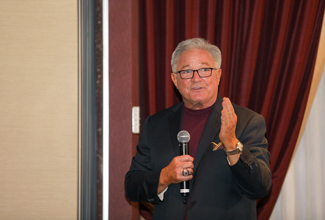 Tables of eight are on sale for $800 while individual tickets are priced at $125 for VIP, $75 for general admission and $50 for ULM faculty/staff. Tables as well as individual tickets can be reserved online here: https://alumni.ulm.edu/e/berry-bowden-grand-finale-the-pursuit/.
Patrons, who purchase tables or individual VIP tickets, will have an opportunity to meet Coach Bowden and his entire coaching staff at a pre-event reception from 5:30-6:30 p.m.
Guests are encouraged to purchase tickets in advance since The Pursuit sold out in both 2018 and 2019 (canceled due to COVID-19 in 2020).
The Pursuit is named in honor of the Curtiss P-40 "Warhawk" fighter planes, flown by Gen. Claire Lee Chennault's Flying Tigers during World War II. The ULM Warhawk mascot takes its name from the planes, which featured the iconic noses painted with an open shark's mouth with jagged teeth.
Berry-Bowden Grand Finale & The Pursuit timeline