Published Aug. 11, 2021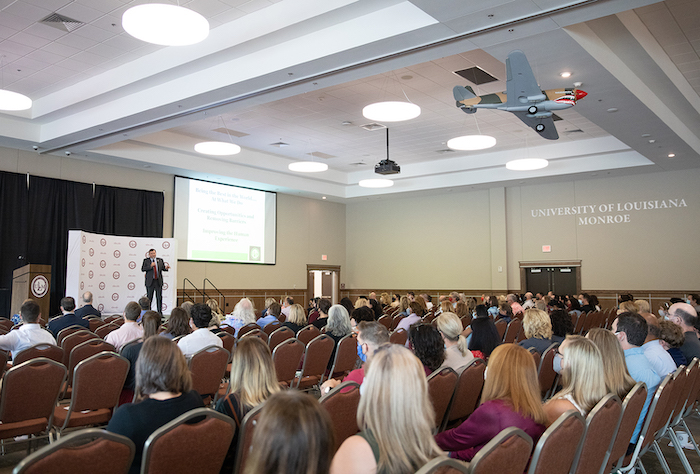 University of Louisiana Monroe President Ron Berry gives his University Address at Bayou Pointe Event Center on Monday, Aug. 9, 2021.
Siddharth Gaulee/ULM Photo Services
In case you missed it, watch the ULM Awards for Excellence and University Address on YouTube
President Ron Berry's goal is to be the "best in the world at 'what' we do" at the University of Louisiana Monroe.
At Berry's University Address on Aug. 9, just days before the start of the Fall 2021 semester, he energized the Warhawk Family to discover the "why" that fuels the "what."
"We've done a lot when it comes to, what?" Berry stated, noting enrollment for Fall 2021 is in good shape, the university has the best budget in 13 years, raises are in the works for faculty and staff, and the ULM Foundation has set a $100 million goal by 2031, "… No doubt they are going to reach that mark."
"The bigger question is why? Why do we do what we do? When you know your 'why,' your 'what' has more impact."
President Ron Berry
"The bigger question is why? Why do we do what we do?" he said, explaining, "When you know your 'why,' your 'what' has more impact."
Identifying the university's collective "why" is the blueprint for the "whats" of Berry's developing strategic plan. The new plan will challenge the status quo of decades of economic depression in the northeast corner of Louisiana.
"In the 5th Congressional District, so many people live in poverty with no hope of a better tomorrow," Berry said. "It's time to own who we are, where we are, and do what we must do. It's time to raise our region up, move out of poverty, and into a better life."
Using his own story of poverty to university president as an example, Berry said it is only through education that lives change. The students' lives are changed, and so are the lives of those around them.
"Think about our students. Our kids need us to be the best in the world at what we do so that we can give them a pathway for themselves and their families," he said. "And when we do this, guess what happens to our community? It rises up."
"So, where do we go from here? We answer our 'why.'"