Published May 27, 2021
By Paul Letlow
ULMWarhawks.com Online Columnist


More than an hour before taking his turn as one of the featured speakers at an alumni-outreach event, the servant coach is helping decorate tables.

Terry Bowden knows his duties as the head football coach at ULM never end. No job is beneath him.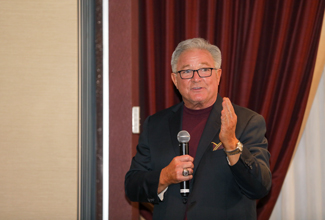 University of Louisiana Monroe Head Football Coach Terry Bowden speaks in Shreveport at a stop on the "Berry-Bowden Roadshow." Bowden and ULM President Dr. Ron Berry are touring Louisiana and neighboring states to meet and talk with ULM alumni and supporters.
Jamuna Tandukar/ULM Photo Services
Need flower arrangements and glasses bearing his likeness set out? He's your guy.

Need someone to shake hands and preach the gospel of ULM football? He's the guy.

Need a storyteller who can sit down with local reporters and fill their recording devices? Bowden is definitely the guy.

"There are some things that are required by the job if you're going to be a head football coach in college," Bowden said Tuesday night prior to the "Berry-Bowden Roadshow" stop at the Petroleum Club. "Especially at the Division I level, you've got to be able to go out and sell your program."

As curious ULM supporters filed in for the meet-and-greet with Bowden and President Dr. Ron Berry, it didn't take them long to interact with their new football coach. Bowden breezed from table to table and weaved tales of his career, his famous football family and his grand plans for his latest renovation project.
"This is the sixth program I've taken over as a head football coach and you want to get involved with the community. You want to get behind the community and you want them to feel like you're part of the community."
Terry Bowden
ULM Football Head Coach

"There's an interest in college football and there's a buzz around town," Bowden said. "That's not hard to see. We've got a very receptive audience here, a hungry crowd. Whether that's because I've got some name recognition or they're hoping upon hope that we can make that move up to being a successful program, I think the university has an opportunity here that is very big."

ULM product and Shreveport native Tim Brando, a nationally-recognized broadcaster who can match Bowden for high energy speeches, is optimistic about the synergy he sees developing at the university.

"I believe, with Dr. Berry's prowess on the academic side and Terry's acumen and history on the athletic side, we're going to see impact that resonates beyond football," Brando said.
Berry accepted the daunting task speaking between Brando and Bowden, but ULM's ninth president delivered a strong message on this leg of The Roadshow.

 "What makes me get up in the morning, what drives me to work late at night and early in the morning is every student that comes on our campus," Berry said. "If you look around the room, you see success. You see people who've been there and done that. You see people who came to ULM with an idea, a dream, looking for an opportunity and something in life.

"If you think about where ULM is located and the high poverty rate in all those rural areas, and you think about the challenges in our public education system, how could you not say that ULM must do its part to create opportunities for every student that walks through our doors."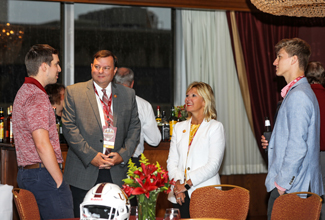 ULM President Dr. Ron Berry, second from left, and Interim Vice President of Enrollment Management and University Relations Lisa Miller, second from right, visit with supporters at a "Berry-Bowden Roadshow" event in Shreveport.
Jamuna Tandukar/ULM Photo Services
By hiring Bowden, Berry aims to provide better opportunities for the football student-athletes too. The team is coming off a winless season and finding a coach to help refresh its brand was one of his first tasks.

"Here is the famous Bowden family and we've got him here at ULM," Berry said. "He's going to do amazing things for us."

With spring football practice behind him, Bowden is able to spend more time on external relations. He knows how to work a room and doesn't need a whistle to command attention.

"This is the sixth program I've taken over as a head football coach and you want to get involved with the community," Bowden said. "You want to get behind the community and you want them to feel like you're part of the community."

Bowden is settling into the local scene exploring what it has to offer. He bought a house, found a church and is discovering a few fishing holes where he can wet a hook when time allows. He likes to get up early for long walks, to lift weights and to read before attacking each day like a pit bull on Red Bull.

"I'm 65," he said. "I can honestly say, I'm not looking for another job. I'm looking to try to build this one and have a legacy as opposed to going out the back door like so many have here the last 27 years."

Near the end of his talk, Bowden makes a final sales pitch and asks the group if it's OK if ULM shoots for third or fourth in the conference. Someone blurts out, "We want to win it!"

The seasoned fisherman cast his line and now he can set his hook, "You're dadgum right we want to win the conference," he said, voice rising. "So let's go out and support our program like every other team in the conference. You clapped at that. So now, let's go support and put our money where our mouth is. It doesn't happen any other way. I'm not asking you to give a million dollars. Buy season tickets and tell your friends to buy season tickets. That's where it starts."