Published June 1, 2021
The University of Louisiana Monroe's policies on COVID-19 prevention measures have been modified following changes to the state and University of Louisiana System requirements.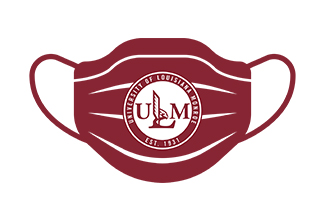 ULM President Dr. Ron Berry said modifying the mask mandate is a step in returning to face-to-face classes and campus activities in the fall; however, the health and safety of the Warhawk Family remain the top priority.
Fully vaccinated faculty, staff, and students are not required to wear a mask in their normal work environment.  
Otherwise, masks continue to be required inside campus buildings but are no longer required outside. Social distancing is suggested if possible, but is no longer required. 
"For well over a year, ULM has worked unceasingly to protect those who study, work, and visit our campus. Our vigilance will continue even as the rate of COVID-19 declines," said Berry. "We will continue wearing masks indoors, and strongly encourage everyone to receive a COVID-19 vaccine."  
ULM's popular PREP/POP sessions for incoming freshmen and their parents begin on Wednesday, June 2. Attendees and staff are required to wear masks during indoor events.
"Given the large number of new students joining us from across the state, country, and internationally for our PREP program this summer, requiring masks while inside is most appropriate at this time," Berry said.
ULM will follow these guidelines:
· Masks are required inside campus buildings, including Bayou Pointe and Brown Auditorium
· Staff who are fully vaccinated are not required to wear a mask in their work environment
· Encourage receiving a COVID-19 vaccine
· Social distancing when possible
· Monitor your health and if you have symptoms of COVID-19, get a test and do not come to campus
Gov. John Bel Edwards has lifted the requirement that face masks be worn in public buildings; however, he gave public institutions – such as the nine members of the UL System – the authority to extend the measure (Louisiana Proclamation on COVID-19 Public Health Emergency Mitigation Measure).
Information about where vaccines are being offered is available on the Louisiana Department
of Health website https://ldh.la.gov/covidvaccine-locations/.