Published Aug. 23, 2021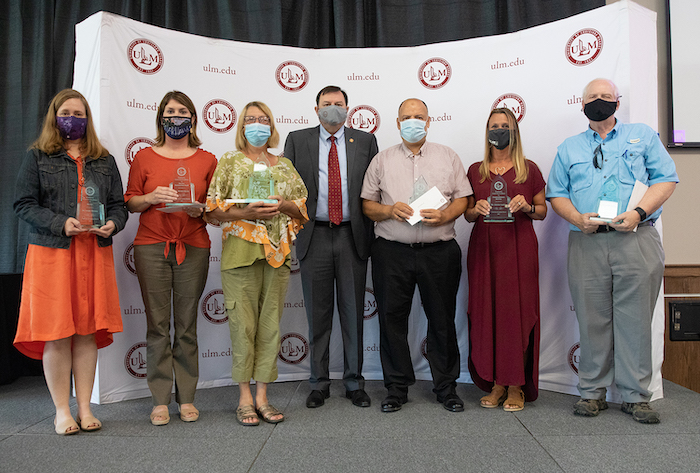 Five faculty and staff were presented with the University of Louisiana Monroe Foundation 2021 Awards for Excellence at ULM President Ron Berry's University Address, Aug. 9, 2021. Pictured with President Ron Berry, center, are, from left, Dr. Leigh Nanny Hersey, Kristi Davis, Norma Flanagan, Dr. Emad El-Giar, Jessica Lasiter, and Dr. John Carr. The 2020 award recipients were announced last year and received their awards at the event.
Siddarth Gaulee/ULM Photo Services
MONROE, LA – Each year, the University of Louisiana Foundation presents the Awards for Excellence to faculty and staff who have demonstrated exceptional commitment to the university and the community.
ULM President Ron Berry recognized the 11 recipients during University Week.
The winners for 2020 were announced previously but did not receive their awards due to COVID-19 restrictions at that time. The awards went to: Shannon D. Banks, M.S., Excellence in Teaching; Scot Humes, DMA, Excellence in Creative/Artistic Activity; Todd Murphy, Ph.D., Excellence in Research; Anthony Walker, Pharm.D., Excellence in Service; and Marcia Wells, Service by Unclassified Staff.
The 2021 winners include: Emad El-Giar, Ph.D., Excellence in Teaching; John Carr, Ph.D., Excellence in Research; Kristi Davis, MBA, Service by Unclassified Staff; Norma Flanagan, Service by Classified Staff; Leigh Nanney Hersey, Ph.D., Excellence in Service; and Jessica Lasiter, Creative/Artistic Activity.
2020 ULM Foundation Awards for Excellence
Shannon D. Banks, M.S. – Excellence in Teaching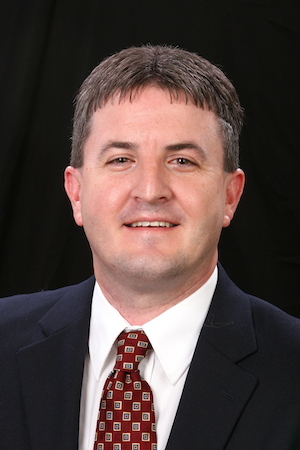 Shannon D. Banks, M.S., knows the best teachers are often the ones who remember what it was like to be a student.
An instructor in the School of Basic Pharmaceutical and Toxicological Sciences in the College of Pharmacy, he once sat in the seats his students now occupy when he was a ULM toxicology student.
Because of his rapport with students and innovations in the classroom, Banks was awarded the 2020 ULM Foundation Award for Excellence in Teaching.
Banks is also the 2020 winner of the Athletic Foundation Faculty Appreciation Award.
Among his classroom techniques is the introduction of games and competitions. When Banks has students who are reluctant to interact, he's introduced role-play scenarios designed to pull them into classroom discussion.
Banks graduated from ULM in toxicology in 1998 and started a career with Eli Lilly & Co. in 1999 as a study monitor and director through 2006. He returned to his alma mater as an instructor in 2007. In addition to teaching, he serves as academic advisor to about 75 ULM sophomores, juniors, and seniors.
Banks is a member of the ULM Toxicology Asbestos and Mold Analysis Laboratory. He was one of the founding members of the lab, established at ULM in 2014.
The faculty staffing the lab have experience in industrial hygiene, occupational health and safety, air monitoring, environmental pollution, and expertise in a wide range of toxicological issues such as forensic toxicology and environmental risk assessment.
Laboratory clientele include a diversified range of individuals and local industry.
Don't misinterpret the jokes, the games, the role-playing. Banks takes education, and his role as a mentor, seriously.
He writes: "I hold all of my students to a high-level expectation of learning. I expect them to not only be able to recall facts and information about course material, but to also be able to apply and evaluate that information in real-life scenarios."
Scot Humes, DMA – Excellence in Creative/Artistic Activity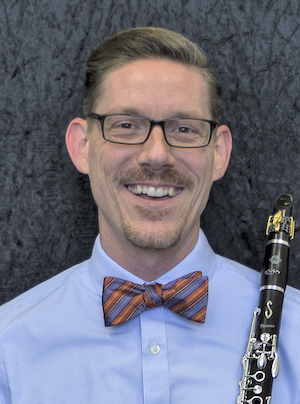 The clarinet has been Scot Humes', DMA, passport, his travels burnishing the University of Louisiana Monroe's brand in places near and far.
As an artist, Humes, Associate Professor of Music in the School of Visual and Performing Arts, College of Arts, Education, and Sciences, is one of ULM's greatest ambassadors, and that's why he was named the 2020 winner of the ULM Foundation Award for Excellence in Creative/Artistic Activity.
Humes came to ULM with a doctorate from the State University of New York at Stony Brook. He earned his master's at Ball State and his undergraduate degree at Oberlin College Conservatory of Music.
Humes has performed in the United States and Europe, including Washington, D.C.; New York City; Paris; Mykonos, Greece; and Oostende, Belgium. He toured Australia and New Zealand with the Sydney Conservatory of Music.
The Monroe Symphony Orchestra, Shreveport Symphony, Rapides Symphony, and Vashon Washington Opera Orchestra are all enhanced by his talents. Add to that list; Humes was a clinician and performer at the 2020 University of Alabama Birmingham Clarinet Symposium. He plays recitals at the International Clarinet Association and performed in Monroe's New Music on the Bayou Festival.
He directs the Northeast Louisiana Clarinet Choir, an ensemble of ULM clarinet students, high school students, professionals, and other musicians. In the process, he recruits potential students for the ULM music program.
Humes has the honor of being named an artist for both Henry Selmer Paris, a famous French maker of clarinets and saxophones, and Silverstein Works, which manufacturers reeds, mouthpieces, and other equipment. These endorsements, Scot says, will open the door for more exposure for him and ULM.
"Within the past year, I have received a large number of invitations that have afforded me the opportunity to bring my craft and artistry to venues on a global scale," Humes wrote in his nominating letter. "For each, I am not only a musical artist but, as faculty, strive to represent ULM as a place to be recognized for its excellence."
Todd Murphy, Ph.D. – Excellence in Research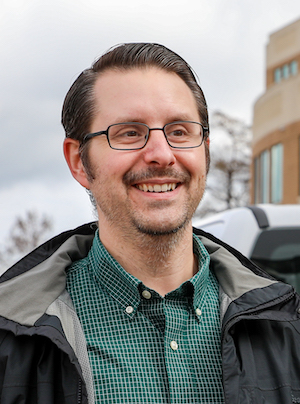 All of us, at one time or another, have had our heads in the clouds. Maybe we're daydreaming, thinking about our next vacation. When Todd Murphy, Ph.D., has his head in the clouds, it's research.
Murphy, Assistant Professor of Atmospheric Science in the School of Sciences, College of Arts, Education, and Sciences, has received the 2020 ULM Foundation Award for Excellence in Research. Murphy joined ULM in 2012 as an instructor and was named assistant professor in 2014.
He has been awarded 11 grants valued at $626,491. Murphy has developed a suite of meteorological instruments at ULM, which he manages, including a $3 million polarimetric S-band Doppler weather radar.
Murphy's teaching and research provide the broader scientific atmospheric science community with important weather information across Northeast Louisiana.
He has received research funding from NOAA annually since 2015 to study the origins of rotation in tornadoes in the Southeast United States.
With the involvement of students who collect data for the project, Murphy's work helped convince NOAA to make Northeast Louisiana a secondary data collection domain for the Spring 2018 VORTEX-SE campaign. That research coincided with extremely active tornado seasons.
In 2016, Murphy secured a grant for complex weather instrumentation from the Louisiana Board of Regents.
In 2018, thanks to Murphy, a proposal to the National Science Foundation funded a portable Doppler wind lidar. This was ULM's first successful NSF proposal in approximately 10 years.
ULM funded a truck to mount the LIDAR system and other weather instruments, which led to the development of a mobile profiling laboratory.
ULM is the onlyuniversity in the country with this collection of atmospheric research instrumentation – a true feat for an undergraduate-only program.
The ULM weather radar has significantly improved severe and hazardous weather detection in the region, protecting life and property. Murphy's research indicates terrain plays a significant role in changing the low-level wind shear and instability available to thunderstorms, leading to the formation of tornadoes.
Anthony Walker, Pharm.D. –  Excellence in Service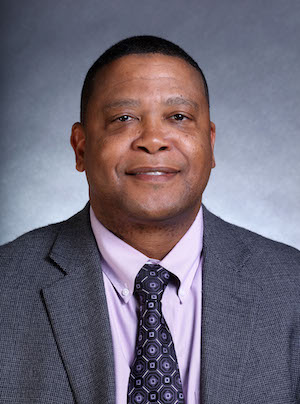 If there's a health fair in Northeast Louisiana, chances are good Anthony Walker, Pharm.D., will be there, too.
In 2019-20 he participated in five community health fairs, two days of CPR training, Prostate Cancer Awareness 5K Walk/Run, and was a guest speaker at Carroll High School Medical Magnet Program.
The Clinical Associate Professor and Pharmaceutical Care Laboratory Manager for the ULM College of Pharmacy's School of Clinical Sciences provides basic life support instruction to pharmacy students.
As a licensed and registered pharmacist, he extends his reach to provide medical education and health screenings to the community.
Because of the selfless giving of his skills and time, Walker was named the 2020 winner of the ULM Foundation Award for Excellence in Service.
Walker earned his first B.S. in Medical Laboratory Science at ULM, with a second B.S. at ULM in Pharmacy. He obtained his Pharm.D. at Shenandoah University's Bernard J. Dunn School of Pharmacy. Walker joined ULM in 1999 as a certified poison information specialist with the Louisiana Poison Control Center and assumed his current duties in 2005. He also served as a medical laboratory scientist with HCA North Monroe Hospital from 1988-98.
Jeffery D. Evans, Pharm.D., Director of the School of Clinical Sciences, applauded his involvement with "a couple of large student groups that required him to give up his evenings and weekends to help the student groups meet their goals. … Dr. Walker never shied away from going into the most medically underserved areas of Monroe and helping those residents with their needs."
Walker, himself, views service as a payback.
"I look back over my early years as a child and remember that although I didn't have much, I never did without, mainly due to kind-hearted people who made sacrifices for me so that I could succeed. I am grateful for the opportunity to give back to my students, my university, my profession, and my community."
Marcia Wells – Service by Unclassified Staff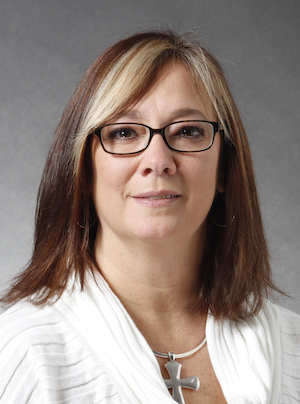 There is a classroom unlike any in the state at the University of Louisiana Monroe's College of Pharmacy campus on Bienville Drive.
It is called an active learning classroom. It takes a lot of technology smarts to manage a smart classroom. Marcia Wells, Instructional Technology Manager for Pharmacy, proves every day she is up to the challenge. She's the 2020 recipient of the ULM Foundation Award for Service by Unclassified Staff.
The active learning classroom technology enables professors and students to wirelessly share content from any laptop, smartphone, or tablet between the teacher station and the tables where students collaborate as a team on projects and problems.
In fact, every classroom and conference room in Pharmacy is wired with state-of-the-art distant learning technology. Wells not only maintains the equipment, she has been involved in installing it in each room.
Wells is responsible for not only all technology, including the toxicology program on the main campus, she also services branch campuses in Shreveport and New Orleans.
Faculty at our branch campuses are able to present their lectures using distance learning technology, avoiding costly travel between the different sites.
Wells joined ULM in 2005 after a career with State Farm Insurance Cos.
Her reach extends beyond the Pharmacy. She works on the webpages for Marriage and Family Therapy and Counseling and the College of Health Sciences. She collaborated with the Office of Marketing and Communications to develop the current Pharmacy and Toxicology program webpages.
"I consider myself the customer service representative for pharmacy," Wells says. "My job is to make sure the classrooms are functioning, assist with technology issues that may arise, communicate with Information Technology and other departments of problems we experience, communicate with pharmacy faculty/staff and students in regard to any technology issues we are experiencing and keep them up to date with information."
2021 ULM Foundation Awards for Excellence
Emad El-Giar, Ph.D. – Excellence in Teaching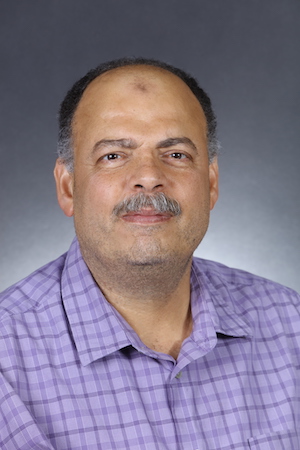 This professor's tireless preparation, attention to the traditionally underserved students, and great patience have earned him the 2021 ULM Foundation Award for Excellence in Teaching.
Emad El-Giar, Ph.D., Associate Professor of Chemistry in the School of Sciences, College of Arts, Education, and Sciences, has a world of experience. He has taught in his native Egypt, and Sudan, Canada, and the United States at ULM and Mississippi State University.
"I embrace teaching as an opportunity to inspire and empower future scientists, medical doctors, and engineers," says El-Giar.
"I consider a teacher's primary role is to aid students develop and enhance their skills in critical thinking, problem-solving, group dynamics, and oral as well as written communication."
"I do understand that chemistry is a difficult subject matter that requires both the students to possess math and reading skills; and the instructor to be knowledgeable, fair, sincere, patient, creative, organized, and has a sense of humor in doing the job."
As a university instructor who has lived in the U.S. for 24 years and as a parent of four children who attended public schools in Mississippi and Louisiana, El-Giar is aware of the weaknesses and difficulties students may have with reading, math, and science classes. He prides himself in having improved the passage rate in the General Chemistry courses at ULM.
Much of the students' success comes from El-Giar's approach early in a semester. In the first class, he conducts a voluntary placement quiz with some math and general chemistry questions to gauge the abilities the students have at the beginning.
"Students consistently rate him as 'awesome' because of his skill of demystifying the complexities of chemistry, as well as the time and care he takes with them," says Monica Bontty, Ph.D., a Professor of History at ULM.
"He is committed to diversity and makes a special effort to assist at-risk students, as well as tutor athletes and under-represented students," Bontty said.
He's even been known to join impromptu study parties and is praised for his open-door policy.
John Carr, Ph.D. – Excellence in Research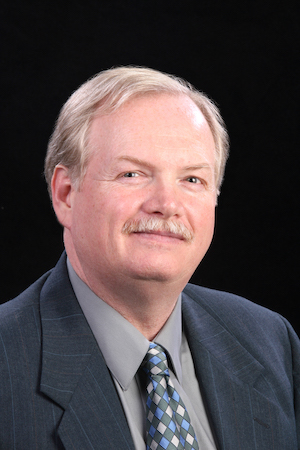 He spans the globe, exploring the infinite variety of … turtles. The thrill of variety and the agony of watching a species decline.
This lifetime fascination and study has earned John Carr, Ph.D., the 2021 ULM Foundation Award for Excellence in Research for 2021.
For 15 years, Carr, Professor of Biology in the School of Science, College of Arts, Education, and Sciences, has tracked nine species of small and medium-sized turtles in 16 Latin American countries. Since 2005, Carr has traveled to Colombia to help shape a turtle conservation action plan. The work expanded to Ecuador.
He rarely travels alone, often bringing graduate students with him to Latin America, West Africa, South Africa, and Mexico.
"I think these were great learning experiences for them, both from a turtle research perspective as well as the cultural eye-opening of working with students and faculty in another country," he said.
Carr's most intensive study, however, occurs nearby. He has participated in distributional surveys of amphibians and reptiles at state wildlife management areas and national wildlife refuges in Northeast Louisiana as part of a three-state region.
And you'll often find him at Black Bayou National Wildlife Refuge, where he is practically on a first-name basis with every alligator snapping turtle there, studying their reproduction and nesting ecology.
In 2020, he completed five turtle surveys in North Louisiana, resulting in 19 research papers, including 20 different ULM graduate students as authors.
"It would be an understatement to say that a lot of time and effort is required to publish a scientific book, especially given the demands placed on faculty in higher education today," writes his colleague, Dr. Kim Marie Tolson, ULM professor of biology.
"Dr. Carr has been the only member of the biology faculty to pull off this feat in the past five years. He co-authored 'Amphibians and Reptiles of Louisiana: An Identification and Reference Guide' that was published in 2017. This impressive book is considered by many to be the gold standard of field guides."
Kristi Davis, MBA  –  Service by Unclassified Staff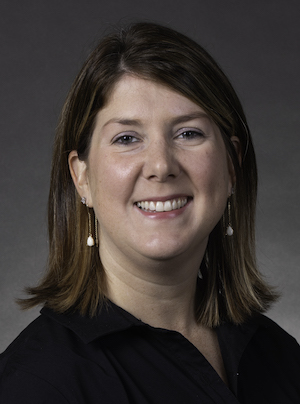 Even after this Warhawk took wing, she never flew far from the nest. She has, however, been soaring to ever greater heights.
That includes the 2021 ULM Foundation Award for Service by Unclassified Staff to Kristi Davis.
Davis started at ULM in 2003, earning a Bachelor of Science, then an MBA.
Just as Davis was about to start her professional career, her mother was involved in a serious auto accident that left her permanently disabled. Davis put her career on hold to care for her mother. As she improved, Davis looked for job opportunities.
Since 2009, Davis has served in several business and budgetary roles. She is now Assistant to the Vice President for Business Affairs,  Bill Graves.
In 2020, she was named Executive Director of the University of Louisiana Monroe Facilities Inc.
Graves holds Davis in high esteem.
"One of Kristi's most outstanding attributes is her ability to get along with a wide range of personalities across campus in a pleasant and professional manner. Her knowledge of the university has been a great resource for me and many others within the university community. Her presence on campus during the entire pandemic has truly kept things moving and is appreciated more than words can express," Graves said.
At ULM, she chaired the SACSCOC Financial and Physical Resources Committee, has served on the Warhawk Village Project Operations Committee, Women's Symposium Board, Strategic Planning Steering Committee, Staff Senate ,and United Way Campaign.
Off-campus, Davis volunteers at North Monroe Baptist Church and a homeless shelter. She serves on the Sterlington Elementary PTO. Kristi and her mother partner with Louisiana State Police and Mothers Against Drunk Driving on the dangers of drinking and driving.
Davis views the hours of service as a privilege. "The university has provided opportunities in my life that I never dreamed would be possible, and I consider it personally rewarding to have the opportunity to make a difference in the lives of those I work with on a daily basis."
Norma Flanagan - Service by Classified Staff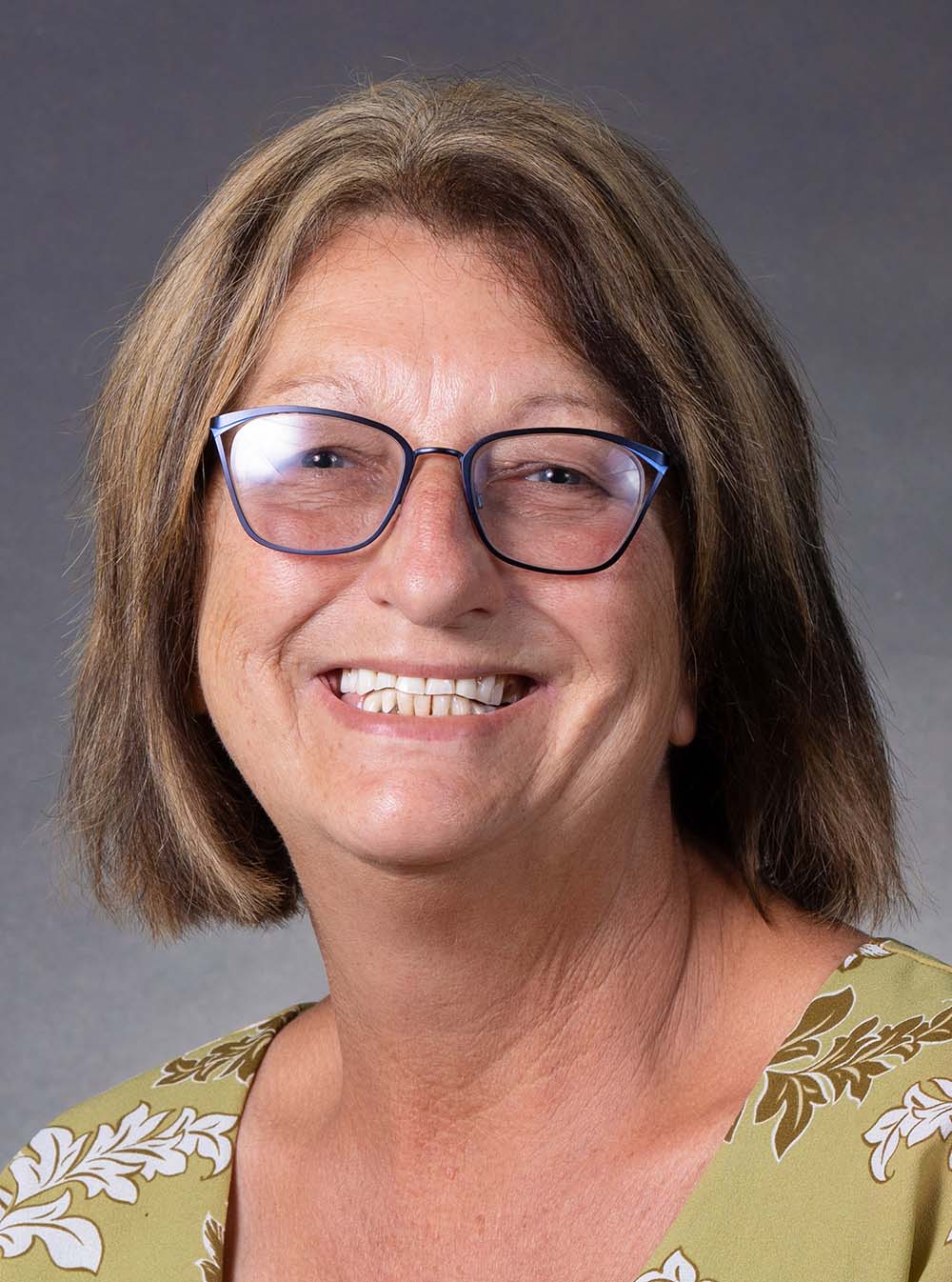 It's impossible to know exactly what each employee at ULM does every day.
For instance, what does Norma Flanagan, Administrative Coordinator III in the School of Humanities in the College of Arts, Education, and Sciences, do?
The better question is, what doesn't Norma Flanagan do?
That's why she is the 2021 winner of the ULM Foundation Award for Service by Classified Staff.
With ULM since 2003, Norma has worked in Admissions, Graduate School, Education, and now with School of Humanities Director Ruth Smith. Ph.D.
Flanagan is the person auditing degree sheets for English, History, Communications, and World Languages, updating major changes for four departments, and keeping the CAES Dean's Office informed on graduating seniors.
She's supervising student workers, answering phones, receiving visitors, locking and unlocking classrooms on the third floor of Walker Hall, assisting faculty, delivering mail, ordering supplies, and much, much more.
"Norma manages this with skill and good humor and is always ready to assist when new questions and assignments come up," Smith said. "Norma has a natural instinct to reach out and help without being intrusive."
Jeffrey E. Anderson, Ph.D., Professor of History and Associate Director of the School of Humanities, praised Flanagan's personal touch.
"Her actions to aid one of my deceased colleagues, Julia Guernsey-Pitchford, during what would turn out the be her final struggle with terminal cancer, impressed me the most. Upon Julia's hospitalization, Mrs. Flanagan regularly visited her and helped care for her home. When Julia was able to briefly return to her house, Norma continued to visit frequently. She kept up her care until the end."
Flanagan shrugs that all off. She has a job to do, and she does it to the best of her ability.
"I attribute my strong work ethics to my dad, who always said, 'Do the job as if you were working for yourself. Take pride in the job you do,'" she says. "My mission is to help others. It is a privilege to be part of the ULM family."
Leigh Nanney Hersey. Ph.D. – Excellence in Service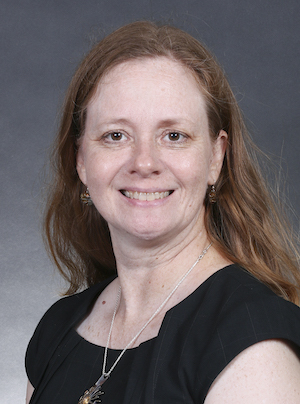 Service for Leigh Nanney Hersey, Ph.D., began with beagles.
The year was 2008, and Hersey volunteered with Arizona Beagle Rescue. She fell in love with dogs, adopting one of the beagles. And she fell in love with helping the communities where she lived.
As an Assistant Professor of Political Science and MPA Coordinator in the School of Behavioral and Social Sciences, College of Business and Social Sciences, Hersey teaches by example. For her, volunteerism isn't an abstract classroom topic. It's a way of life, and she is the winner of the 2021 ULM Foundation Award for Excellence in Service.
Among her numerous campus activities, Hersey participates in the Career Center Mentoring Program, Strategic Plan Focus Group, Athletic Director Search Committee, Academic Innovation Council, Title IX Ad Hoc Task Force, SACSCOC Steering Committee, and the Search Committee for the Director of Office of Sponsored Projects and Research. She also served as a faculty representative for the United Way Campaign three years running.
Her service, however, goes beyond ULM to the community. In 2017, she served as a community investment volunteer for the United Way of Northeast Louisiana. Hersey serves on the boards of both the Downtown Arts Alliance and the Children's Coalition of Northeast Louisiana. And she continues to work with dogs. She is a transport coordinator for the Senior Moments Weimaraner, another canine rescue organization.
Hersey studied journalism at the University of Georgia, earned her Master's in Athletic Administration at Temple University, and her doctorate in Public Administration with a graduate certificate in Nonprofit Management and Leadership at Arizona State University. She joined ULM's faculty in 2016.
As a teacher of nonprofit management and community development, Hersey has been instrumental in getting her students to volunteer in the community.
"My goal in life is to leave my community better than I found it," Hersey says. "That not only means the work I do myself, but it includes the impact I have on those I work with."
Jessica Lasiter, MHIN, – Excellence in Creative/Innovative Works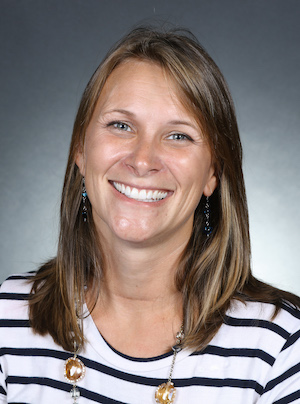 Play-Doh and Twister? Is this a university or a kindergarten?
Definitely a university. But who says learning can't be fun?
That's Jessica Lasiter's approach. She teaches a highly complicated course of study, one where lives hang in the balance. With complex scientific concepts and vocabulary, students can get easily lost or bored.
Lasiter, the 2021 winner of the ULM Foundation Award for Creative and Innovative Works, is Associate Professor and Program Director of Medical Laboratory Science in the School of Allied Health, College of Health Sciences. She holds a Master in Health Information Management and is a licensed Clinical Laboratory Scientist.
She loves what she does.
"I am constantly trying to find innovative and creative ways to 'connect the dots' and keep the student's attention," she said. Lasiter connects learning through play.
Consider "Parasitology Twister." The images are not colored dots but pictures of cysts, trophozoites, and amoebas. The spinning wheels have disease names and clinical manifestations.
As part of the study of renal physiology, Lasiter has the students mold the anatomy of the kidney with Play-Doh, then they use the model to explain renal function.
Imagine planning social events for a Bi-State MLS Conference. Lasiter was tasked with that as chair of the meeting. She worked with the ULM School of Visual and Performing Arts to create an MLS Murder is Served event.
These are just a few of the innovations employed by Lasiter, who earned her bachelor's and master's degrees at Louisiana Tech, then at Rapides Regional Medical Center and St. Francis Medical Center before joining ULM in 2010.
Does her approach work? Here's what two students said:
"Even with the challenges presented during COVID lockdown, Mrs. Lasiter curated unique teaching methods that enabled us as students to reach our full potential," Justin L. Hernandez.
"Mrs. Lasiter pushes you to work harder, encourages you to believe in yourself, and inspires you to reach your full potential. I hope one day I can be half as good of a Medical Laboratory Scientist that she is," Annelise Johnson.
Does Lasiter's approach work? Yes.