Published Sept. 17, 2021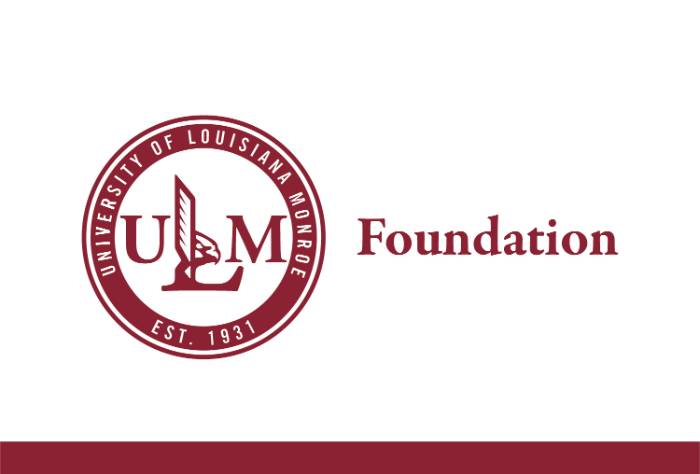 The ULM Foundation is hosting a reception to announce the

University of Louisiana System Foundation & Willis-Knighton Health Systems

Endowed Professorships to Chris Gissendanner, Ph.D., and Sharon Meyer, Ph.D.,

Thursday, Sept. 30, 2021, 3 p.m. Laird Weems Center 4400 Bon Aire Drive
Two professors at the University of Louisiana Monroe whose innovative research could lead to significant advancements in disease treatment and overall health were selected to receive $100,000 endowed professorships.
Christopher Gissendanner, Ph.D., was named University of Louisiana System Foundation and Willis-Knighton Health System Professor of Biology. Sharon Meyer, Ph.D., is the University of Louisiana System Foundation and Willis-Knighton Health System Professor of Toxicology.
Willis-Knighton Health System invested $120,000, and the UL System Foundation contributed $80,000 in matching funds for the professorships. Both organizations required the recipients to work in STEM programs.
The ULM Foundation will host a reception at 3 p.m. on Thursday, Sept. 30, at Laird Weems Center to honor Gissendanner and Meyer and recognize the significant financial contributions of the UL System Foundation and Willis-Knighton Health System.
James K. Elrod, President and CEO of Willis-Knighton Health System, shared "The two disciplines we choose to fund at this time are Biology and Toxicology at $60,000 each for a total contribution of $120,000.  These funds are provided as part of our "tithe the bottom line" philosophy of philanthropy which invests in worthwhile projects, activities and educational opportunities to enhance our community and our region.  We value our relationship with ULM and the quality graduates who are now employed at Willis-Knighton.  We are pleased to sustain our ongoing relationship with this additional contribution in the health sciences curriculum."
"Congratulations to Drs. Gissendanner and Meyers. STEM professions are vital to the future of our state's economy and ULM's faculty will play a critical role in ensuring our graduates are prepared for the future of work," Dr. Jim Henderson, President and CEO of the University of Louisiana System, said. "These professorships were made possible by an anonymous gift to the UL System Foundation, an investment that provides tremendous support to the work of our nine-member institutions."
The ULM Foundation manages the investment and reporting of endowed professorships. 
"We are truly grateful to Willis-Knighton Health System for these two endowed professorships added to the five previously funded by them, and the UL System Foundation for the matching funds. Through these Endowed Professorships, Chris and Sharon are poised to uniquely contribute to the missions of their departments and ULM students," said Susan Chappell, Executive Director of Advancement, Foundation and Alumni Relations.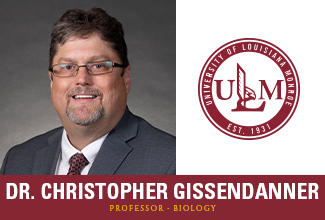 Christopher Gissendanner, Ph.D.
Gissendanner is Associate Director of the ULM School of Sciences and Professor of Biology in the College of Arts, Education, and Sciences. Gissendanner holds a Doctorate in Cellular Biology from the University of Georgia. Following a post-doctorate fellowship with New England Biolabs, he joined ULM in 2004.
Gissendanner's research focuses on using bacterial viruses (bacteriophage) ​as an alternative therapy for treating infections caused by antibiotic-resistant bacteria.
"Receiving this professorship is an honor, and it will have a significant impact on the progress of my research. It will also have an important role in helping support the undergraduate and graduate students that work in my lab," said Gissendanner.
"The focus of my research is on the development of bacteriophage therapy. Bacteriophages are viruses that can infect and kill bacteria. The idea of phage therapy as a means of curing bacterial infections has been around for a long time, but it has recently emerged as a successful and promising avenue for new treatments of antibiotic-resistant bacteria," Gissendanner said. "The focus of my work is on developing phage therapy for opportunistic pathogens commonly found in the environment."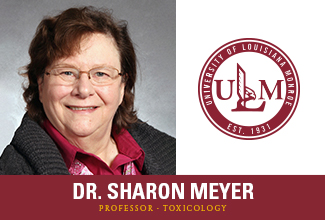 Sharon Meyer, Ph.D.
Meyer, a Professor in the School of Basic Pharmaceutical and Toxicological Sciences in the College of Pharmacy, joined ULM in 2000. She earned her Doctorate in Physiology from Cornell University and completed post-doctoral work at Harvard Medical Center and the University of North Carolina at Chapel Hill.
Meyer's two research areas are health treatments derived from the echinacea plant, and ensuring north Louisiana's drinking water is free from contamination from chemicals leftover from munitions storage.
"I am honored to be the recipient of the UL System Foundation-Willis-Knighten Endowed Professorship in Toxicology. This is especially meaningful since the work I have done at ULM has been facilitated by ULS," Meyer said.
"My results should have significant implications for protecting Louisiana residents from drinking water contamination by munitions, such as those used at the former Louisiana Army Ammunition Plant at Minden," Meyer explained.
Meyer's research and testing of contaminants found at the former Superfund site were instrumental in the clean-up bringing the site in Webster Parish into EPA compliance.
The endowed professorship will support Meyer's research into echinacea as a dietary supplement to boost the production of white blood cells when bone marrow has been compromised, such as during chemotherapy. Meyer proposes continued refinement of the active ingredients in echinacea "will direct efficient processing of the plants to produce a treatment countering bone marrow myelosuppression."