Published Sept. 19, 2021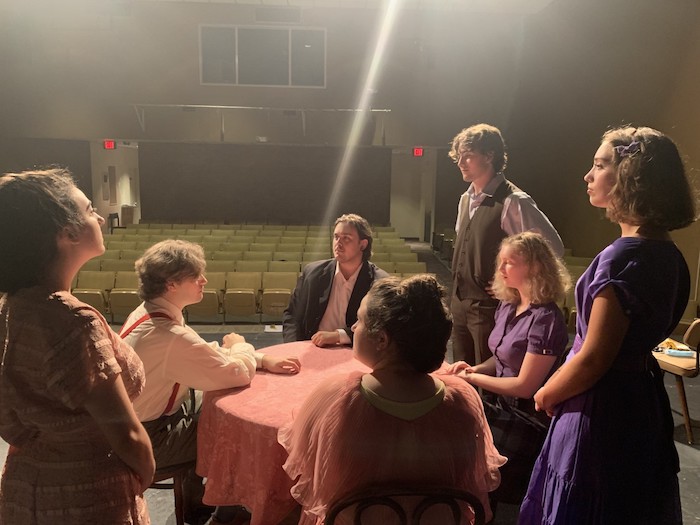 ULM students rehearse for "The Glass Menagerie," which will be presented Sept. 23-26 at Spyker Theatre. Cast members are, standing, from left, Cherie Mialaret, Abigail Hawthorn and Callan Saldutto; and seated, clockwise from center, Abigail McClung, Kade Matkins, Gabe Wright, and Rebekah Johnson. VAPA Photo
'The Glass Menagerie' is first stage play in eight years
Live theatre returns to the University of Louisiana Monroe with the Tennessee Williams classic, "The Glass Menagerie," presented by the School of Visual and Performing Arts in the College of Arts, Education, and Sciences.
Performance dates are Thursday, Friday, and Saturday, Sept. 23-25 at 7:30 p.m. and Sunday, Sept. 26 at 2 p.m. All performances are in Spyker Theatre.
Want to go?
WHAT: VAPA's "The Glass Menagerie"
WHEN: 7:30 p.m., Thursday, Sept. 23, Friday, Sept. 24, Saturday, Sept. 25; and 2 p.m. Sunday, Sept. 26
WHERE: Spyker Theatre at ULM
TICKETS: Free for ULM students with ID, $5 general admission, tickets at Eventbrite.com
Admission is free for ULM students with ID, general admission is $5 and tickets are available at Eventbrite.com.
The play is directed by Mark Ross Clark, DMA, Professor of Music and Theatre. Clark said this is the first play presented by VAPA in eight years.
"For this occasion, we chose one of the classic plays of the 20th century, a play that has been revived on Broadway five times, 'The Glass Menagerie,' by Tennessee Williams. We held auditions on the evenings of the first two days of class, Aug. 15 and 16. It is a tribute to the devotion and talent of our chosen student actors that in five weeks they have rehearsed and memorized this substantial 116-page play."
Cast, crew, and staff
The performance is double-cast, except for of the role of Tom, played in all shows by Kade Matkins of Monroe, a junior in computer science.
Thursday and Saturday cast
Amanda ­– Abigail McClung of Monroe, a sophomore in communications
Laura ­– Rebekah Johnson of Livingston, a sophomore in pre-Pharmacy
Jim the "Gentleman Caller" – Callan Saldutto from Canada, a sophomore in accounting
Friday and Sunday cast
Amanda ­– Cherie Mialaret of Mandeville, a junior in public relations
Laura – Abigail Hawthorne of Monroe, a sophomore in pre-social work
Jim – Gabe Wright of Kansas City, Mo., a senior in pre-professional health studies.
Student production staff include stage manager Sarah Johnson, a freshman in CAES, and stage crew Jonathan Hannon, Brittany Penn, and Allison Newton.
ULM production staff are technical director Steven Burnside, costumer Margaret Hall, and producer Derle Long, VAPA director.
Setting
The music reflects the sounds from the post-WWII years of the late 1940s. Recordings of Glenn Miller, Duke Ellington, Tommy Dorsey Orchestra, and others set the atmosphere of the family living in a one-bedroom apartment in downtown St. Louis, Mo.
Amanda, the mother, continues to relive her old Southern past; daughter Laura is physically and emotionally damaged, with a collection of glass figurines; and Tom, the son, is narrator, and brings home an old friend, Jim, as a blind date for Laura, who is still smitten by memories of him.
All of the scenes are snapshots of Tom's own memories of what happened at this time in his family.  It is called 'a memory play,'  woven together by recordings of great swing music sounds of the time, Clark said.