Published Marchf 15, 2021
The University of Louisiana Monroe presents the 28th Annual High School Junior/Senior Juried Art Exhibition at Bry Art Gallery through March 19.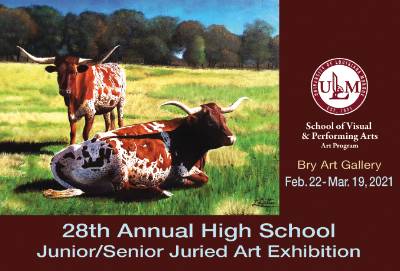 The exhibition is sponsored by the ULM Art Program in the School of Visual and Performing Arts of the College of Arts, Education, and Sciences.
Joni Noble, Ph.D., Art Program Coordinator, said northern Louisiana high school art students were eligible to submit examples of their studio art endeavors, at no cost.
There were 114 entries submitted from students at Captain Shreve, Castor, Ouachita Parish, Pineville, Southwood, Sterlington, West Monroe, and West Ouachita high schools. The entries were judged by ULM art faculty on creativity and mastery of the chosen medium.
The virtual awards ceremony for the competition can be found at https://youtu.be/lKnH8ifq5xI. Cash awards and scholarships were given to deserving students. The 50 entries selected for excellence are in the exhibition.
Gallery hours are 8 a.m.-4:30 p.m. Monday-Thursday 8-4:30, and 8-11:30 a.m. Friday 8-11:30. The public is welcome to view the exhibition.