Published Oct. 5, 2021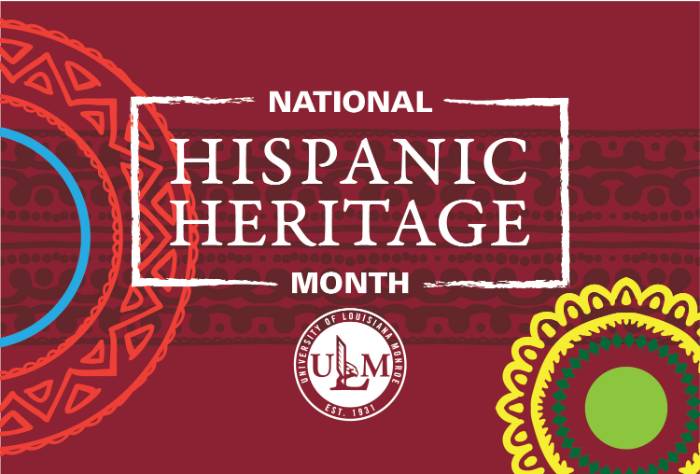 By Ashlyn Dupree
ULM Office of Marketing and Communications
To recognize Hispanic Americans' culture, history, and contributions, the University of Louisiana Monroe Office of Diversity, Equity and Inclusion and International Student Association are celebrating Hispanic Heritage Month Oct. 11-15.
Gina White, ULM International Services and Programs Officer, said it is important for the campus to recognize the contributions of the Hispanic/Latino culture.
 "Our students benefit from the educational resources here on campus, but we all benefit in a mutual exchange of cultures," White said. "We are a home away from home and therefore it is important that we celebrate the heritage of each student, faculty, and staff here at ULM."
Monday, Oct. 11: Nuestras Voces promotes ULM's Hispanic community through the voices of students, faculty, staff, and alumni on Global Ambassador's Instagram and Facebook.

Tuesday, Oct. 12, 6-8 p.m., SUB Ballrooms: Participants interact in a dine and learn experience. The night brings an authentic Honduran meal, mariachi band, dance performance, guest speakers and crafts.

Wednesday, Oct. 13, 6-7 p.m., Activity Center: Students learn and practice the Latin dance styles of Bachata and Salsa.

Thursday, Oct. 14, 12 p.m.: Global Ambassadors test your knowledge of Hispanic culture with a trivia quiz on their Instagram page with the top four participants winning a prize.

Friday, Oct. 15, 11 a.m., Schulze: International students prepare Latin dishes to feature the Hispanic cuisine.
For more information, contact the ULM Office of International Services and Programs, 318-342-5225.